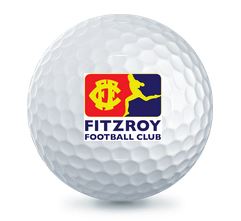 Sunday 02 April 2017 1:00pm ~ Sunday 02 April 2017 1:00pm
1910 Donnybrook Rd, Yan Yean VIC 3755, Australia
The annual Fitzroy Football Club Golf Day will take place on Sunday April 2 from 1pm.
This year golfers will be treated to Growling Frog Golf Course, located 50 minutes north of the CBD. The format will be a two-ball Ambrose event (play in teams of two, but groups of four).
This is a fantastic opportunity to enjoy a round of golf with current and past players, members and supporters ahead of the start of the VAFA season. A presentation ceremony and refreshments at the clubhouse will follow the round.

To book, email your and your playing partner's name to corbinstevic@gmail.com. The first five pairs to sign up will receive a FFC branded golf ball! The $60 entrance fee will be payable on the day and will include your 18 hole green fee and use of an electric cart.
The course is at 1910 Donnybrook Road, Yan Yean and details for to get there can be found here:
http://www.growlingfroggolfcourse.com.au/contact-us/find-us.aspx