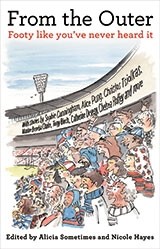 Saturday 28 May 2016 11:30am ~ Saturday 28 May 2016 11:30am
Clifton Hill / North Fitzroy Community Bank Branch Community Rooms under the Fitzroy Football Club Grandstand (Brunswick Street Oval)
The editors of From the Outer: Footy Like You¡¦ve Never Heard It, will be the headline act at the Rotary Club pre-game lunch on Saturday 28 May.
Leading sports journalist, driving force behind The Footy Almanac writing community and Fitzroy (or is it Geelong?) tragic, John Harms, will interview Nicole Hayes and Alicia Sometimes, who have pulled together a great book of stories about footy told from diverse perspectives.
The newly launched From the Outer ¡§brings together 30 personal stories about Aussie Rules from unexpected voices: those who are female, Indigenous or gay; those with a disability, a foreign accent or even ¡V perhaps most dubious of all ¡V literary leanings.¡¨
Nicole Hayes has a history of writing on football but also young adult fiction, having published several books. Alicia Sometimes is a writer, poet, broadcaster and musician, known for her work on 3RRR and the ABC.
Nicole and Alicia are also behind podcast, The Outer Sanctum, which features interviews with some of football¡¦s biggest names along with special segment, The Melee; their take on the big issues in footy.
Time: 11.30 am for 12pm (drinks from 12) Cost: $40 for main course and cheese platter, with drinks at bar prices
Where: Clifton Hill / North Fitzroy Community Bank Branch Community Rooms under the Fitzroy Football Club Grandstand (Brunswick Street Oval).
Please book your tickets online below.
If you have any other questions, please email Peter Hille.
>Old C