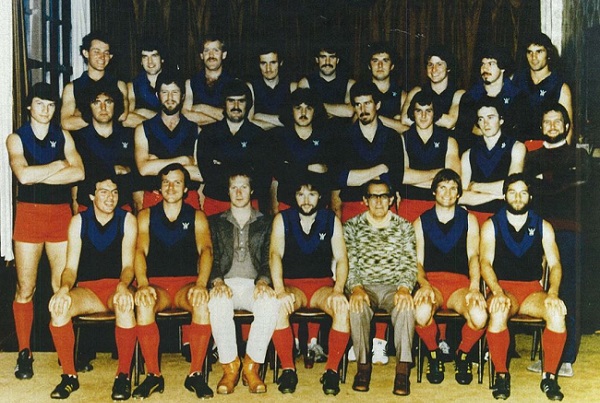 Saturday 10 April 2021 11:45am ~ Saturday 10 April 2021 11:45am
Community rooms, Brunswick Street Oval
Reds celebrate 1980 inaugural premiership
Time to get out the little red shorts and see if they still fit!
The University Reds (the club later to become the Fitzroy Reds, and one very important half of our 2008 merger) is celebrating 41 years since its first premiership with a lunch on Saturday 10 April the first round of the VAFA season.

The celebration of such an important milestone has been delayed by one year, like most things in 2020!

Fittingly Fitzroy takes on the Uni Blacks in Round 1 at Brunswick Street Oval and the Reds will take a walk down memory lane to a time when the Reds were almost unstoppable. Almost.

The 1980 F Section Premiers will be out in force and you can book in to join them for what promises to be a very big afternoon full of memories, laughter and some tall stories.

The real story is a pretty good one too!

The Reds finished the home and away season in 1980 atop the ladder with 16 wins and two losses. Having lost to Thomastown by one point in the second semi, they went on to exact their revenge in emphatic style with a 10 goal grand final win at the Beaurepaire Centre, Albert Park.

But they almost didnt make it! Having been five goals down at three quarter time in the Preliminary Final against the Peninsula Old Boys, the Reds stormed home to win by one goal.

The Reserves also finished on top of the ladder after the home and away season but were defeated in the grand final.

For those who know Reds Foundation President, Peter Hille, make sure you get a front row seat to hear about his 106-goal season.

Current Fitzroy Treasurer, Michael Smale, was the Reds captain in 1980 and he, coach Andy McNair, and Hille will tell the story of the season that was.

It promises to be a great day with many of the original team lined up to attend and share their recollections.

Book in quickly for this one. All Fitzroy events will require an early RSVP this year (please see below). Book online now.

Saturday 10 Apr"l
11.45 for 12pm start
Community rooms, Brunswick Street Oval
$40 for lunch and drinks at bar prices
RSVP - 1980 Premiership players and team mates by Friday 26 March* - everyone else, book online by Thursday 1 April.

See you there in your best red outfit.
*Redders and friends - if you have a booking from 2020, please don't book again. We will count you. Just confirm your attendance by email to Michael Smale (michaelsmale58@bigpond.com)

COVID-Safe requirements for all Fitzroy 2021 lunches in the Community Rooms at Brunswick Street Oval
We just need to set out a few of the current Victorian COVID-Safe requirements from the State government, Council, and the club to keep everyone safe during our events:
Only people who have RSVP'd to the event will be allowed entry as we need to keep exact records. There will be no walk ups.
As you arrive, you must check in using Council's QR code. Please arrive a few minutes in advance so you have time to check in. Ideally you will have downloaded the Service Victoria app in advance, which will help speed up the check in. If you don't have a smartphone, we can help you.
If you are unwell or have any signs of cold or flu, including a cough, sore/scratchy throat, runny nose, shortness of breath or fever, please do not come to the event. Please stay at home and get tested.