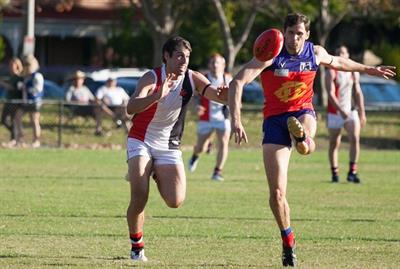 Saturday 13 May 2017 11:45am ~ Saturday 13 May 2017 11:45am
Community Rooms under the Fitzroy Football Club grandstand (Brunswick Street Oval)
Bernie Sheehy - the man with a foot in each camp
When Fitzroy plays AJAX at home on 13 May, there will be a man with a foot in each camp who will be speaking about his experiences with each club at the pre-game lunch.
Bernie Sheehy, who coached the Fitzroy Reserves in the mid 80s is a great speaker and motivator. His most recent coaching gig was with Ajax from 2009-2012. In between, his stellar coaching career in the VAFA included 3 premierships in 5 years with De La Salle Old Boys. He also worked as Essendon Reserves Coach under Kevin Sheedy and coached Springvale in the VFA.
These days Bernie is a Barrister and Solicitor, having been admitted to the Victorian Bar in 2004. He had an earlier career with the Tax Office.

Fitzroy and AJAX supporters are invited to the lunch at Brunswick Street Oval before the teams meet in Round 5 for the Jellis Craig Game.
Come along and hear from one of the great characters of VAFA coaching.
Time: 11.45am for 12 (lunch will finish in time for the game at 2pm)
Cost: $40 per head, with drinks at bar prices
Bookings: online (using the booking form below)
Venue: Community Rooms under the Fitzroy Football Club grandstand (Brunswick Street Oval)
RSVP: Wednesday 10 May