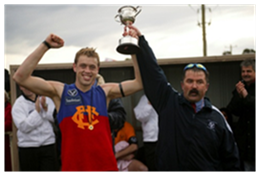 Saturday 26 August 2017 11:45am ~ Saturday 26 August 2017 11:45am
The Community Rooms under the Fitzroy Football Club Grandstand (Brunswick Street Oval)
Fitzroy will acknowledge four people who have made major contributions to our club over the last 25 years at a pre-game lunch at BSO before Fitzroy takes on Parkdale.
Join in congratulating Graham Burgen (coach), Stephen Drury (player and premiership captain), Lloyd Browne (umpire) and Bill Atherton (volunteer) as part of our Fitzroy IT game and the VAFA's 125 years.
The Fitzroy Directors went back through the history of the club in the VAFA for the last quarter of a century, which of course included the successful days of the Fitzroy Reds, and identified four people who have made an incredible contribution to the club in the VAFA categories.
Hear from the four about their times with Fitzroy and the Reds (current and past) as they are awarded their VAFA medallions.
This is part of our Fitzroy IT game, named to thank one of our major sponsors.
Tickets are on sale now.
Time: 11.45 am for 12pm (drinks from 12)
Cost: $40 for lunch with drinks at bar prices
Where: The Community Rooms under the Fitzroy Football Club Grandstand (Brunswick Street Oval).