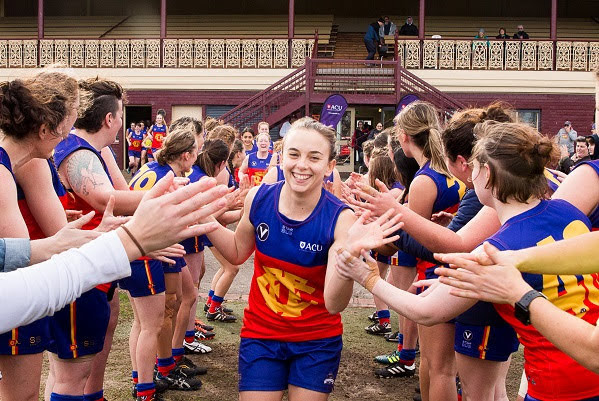 Saturday 09 April 2022 1:40pm ~ Saturday 09 April 2022 5:30pm
Brunswick St, Fitzroy North VIC 3068, Australia
Join us on Saturday, 9 April to be part of history!

70 years after the Fitzroy Football Club's famous old theme song was first penned, the club will write another page in our illustrious history when the Roy Girls run out onto the Brunswick Street Oval to the strains of their own version of the song in Season 2022.

To celebrate this historic moment, our club's community of women and girls will form a Guard of Honour as our Senior Women's Team runs out to the new song for the first time on Brunswick Street Oval on Saturday 9 April.

Fitzroy Football Club is blessed with a long history of trailblazing women who have served the club and game of football as administrators, directors, volunteers, community leaders, mentors, coaches, trainers, umpires and players. The women's version of the famous song celebrates the contribution women have made to our club in many ways, across our history, and into the future.

We hope you can join us as we celebrate this special moment .

Date: Saturday, 9 April
Guard of Honour time: 1.40pm for 1.50pm when the Senior Women will run onto the ground
Match: 2.00pm - Fitzroy ACU v Monash Blues
Venue: Brunswick Street Oval
Post match: Please join us at the Fitzroy Victoria Bowling and Sports Club after the match for post-game presentations and a formal celebration with special guests as a celebration of this historic moment for our women's teams.