Shop
---
< Back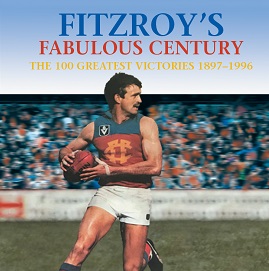 Hover to zoom
Fitzroy's Fabulous Century
$20.00
View cart
Fitzroy's Fabulous Century: The 100 Greatest Victories, 1897-1996 by Pete Carter.
Each purchase of this book results in $5 coming to the Fitzroy Football Club.
As the title suggests, the book recounts Fitzroy's 100 "best" wins. Some of the selected wins will be remembered because of their recency, while others are from the deep, dark, distant past long before the age of television and the Internet. The obvious victories are included (we can't forget that the Roys won eight VFL premierships!), while others get a guernsey on account of brilliant individual goalkicking performances, thrashings, wins against the odds, great comebacks, thrilling finishes, or because the writers of the day made the games sound far more interesting than they indeed were. The one thing they had in common was that the Maroons, Gorillas or Lions – the Mighty Roys! – won them all. Fitzroy 100, Opposition 0.

If you don't wish to use a credit card to make your purchase, please contact Bill at the Fitzroy Shop on 03 9580 6464 (during business hours) and place your order.