Nick Marshall recently celebrated his 100th game with Fitzroy, so we nabbed a classic footballer for a classic Q&A
I came to Melbourne to study at Victoria University and wanted to find a club in the city.
Id played all my junior football in country Victoria for Terang-Mortlake FC in the Hampden Football League (south west Victoria). Id barracked for Fitzroy when I was little, and still follow Brisbane today, and when I noticed that Fitzroy still existed in the VAFA, I thought it would be neat to, in a way, play out that boyhood dreamof playing for the team you barracked for while growing up. The other reason I chose Fitzroy was that in 2011 the U19 side had just been elevated to the Premier division of the VAFA competition and I thought it would be a good challenging standard of footy to try and play in.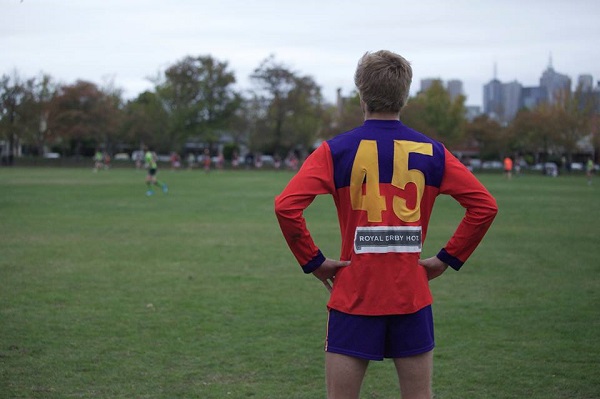 Without doubt the best thing about playing for Fitzroy is running out on the historic Brunswick Street Oval in front of original Fitzroy supporters. The club has a genuine community atmosphere similar to a country football club which I thought I would lose when I came to the city. But the crowds we get 'rain, hail or shine' never cease to amaze. Special mention should go to Steve and Louise Maniatakis who always look after me with a bag of snakes after each game.
My fondest memory is certainly the 2012 Reserves premiership. I've only played in two premierships in my footy career, the last one being back in the U14s at Terang-Mortlake. So that reserves premiership will always be a highlight which I get to share with the boys who played, as well as a lot of my family and friends who made the trip up to watch that day.
I've played a lot of my football at Fitzroy out on the wings, where I can get a bit of space so I'm always really appreciative and impressed by the work the in-and-under-hard-nut midfielders like Olmo Salvatore and Al 'Red Dog' Mulligan do to extract the footy from stoppages and feed it out to runners. In a similar vein I love the way Jono Anderson goes about his footy in the backline, he rarely loses a one-on-one contest which makes him super reliable teammate.
I'm really fortunate in that I have been sponsored the last few years. Bill Atherton sponsored me for the last couple of years and Michael Manoli has backed me this year. As a University student, things like football registration can stretch the budget a bit at times so Im extremely thankful for the generous support of people like Bill and Michael whove been able to help me out.
One of my less fond memories happened a few years ago playing against AJAX at Gary Smorgon Oval. I went to take a bounce while running through the middle of the ground. However, I bounced the ball straight down on the cricket pitch and the ball went flying over my head. I can laugh about it now but my reaction at the time speaks for itself. Thanks to Phyllis for the photo!