This weekend a special lunch and our traditional half time Anzac commemoration will add some gravitas to Fitzroy's Round 3 game at Brunswick Street Oval.

On field, Fitzroy will play host to the undefeated Caufield Grammarians as we search for our first win. Off field it is the day we honour the fallen with our half time Anzac commemoration at the Edinburgh Gardens sportsman's memorial and this year the pre-game lunch will also have an Anzac and mental health theme.
We've been lucky enough to secure two wonderful guest speakers, including Carlton champ, Ken Hunter and the Vice President of the Richmond RSL, Major Peter Crosby, who has a wonderful history lesson with local connections and a modern-day twist.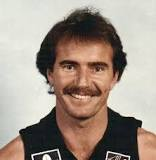 Ken Hunter - Ken is a former champion Carlton AFL footballer and co-founder of Mental Health First Aid Australia (MHFA). With former Carlton Football Club premiership teammate and fellow MHFA instructor Ken Sheldon, he has established FifthQtr which provides mental health and high-performance programs to corporate and other entities.
Ken's battle with depression towards the end of his AFL career is well documented. He took a massive risk both personally and professionally and spoke publicly at a time when mental health issues were routinely hidden. Ken speaks frankly about his own struggles and the challenges that can face sportsmen and women at both the elite and lower levels. In fact Ken's message is relevant to all sections of society in an era where mental health issues have been increasingly highlighted. Ken's insights into his stellar football career and indeed life in general will make riveting listening.
Major Peter Crosby - Major Crosby is the Vice President of the Richmond RSL and is going to share with us the somewhat mysterious story of one of our Victoria Cross recipients, Gerald Sexton (otherwise known as Sergeant Maurice Buckley VC DCM - image (right) belongs to the Australian War Memorial) who died in Fitzroy and is commemorated on a plaque at the Fitzroy Town Hall.
Major Crosby will link the story of Sgt Buckley with a City of Yarra WWI Gun being restored for Silencing War and Mental Health, and other work he and his RSL colleagues are doing to improve Veteransmental health, such as the local community park engagement for reflection, integration and family bonding. He will also talk about Veterans' Health Week in September.
Come along and listen to how hope can be built from the darkness.
Book now and bring your mates for a lovely day at Brunswick Street Oval.