As we head into the 2019 season, RedRoy pays tribute to some of our most loved and most talented players whove decided to hang up the boots at least for the time being. With that range of retiring talent, in the end we decided to look no further than former captain extraordinaire as the pinup boy for this story…just one more time. By Gabrielle Murphy.
 
By any standards, Rory Angiolella has enjoyed a stellar career. And in his case, the standards are about as high as you get in VAFA footy. Hes a supremely talented footballer, a fearless midfielder, admirable captain and role model, umpiresfavourite, and out-and-out VAFA star. We could go on (and wish Rory could do the same!)

But after 20 years on the field, Rory is calling time along with teammates Sam Baker, Tom Biscaro, Tom Cheshire and Drew Olarenshaw. Sams off to explore the world, Tom to pursue further studies, Chesh to live and work overseas and, although we dont know exactly what Drews plans are, were pretty sure hell approach it with the same unrelenting determination he took to every game he played for the Roys.


Rory Angiolella started playing for Fitzroy in the under 10s, with Michael Pickering as assistant coach, when he was nine years old. Rory reckons that for the first five years he was the chubby kid they tried to hide in the back pocket (yeah, right).

He also says the Fitzroy Football Club has been such a constant presence in his life its virtually been a second family to him (easier to believe).

It's hard to imagine what else I wouldve been doing for the past 20 years,Rory says. I've made lifelong friends. Ive developed so much as a person. Learnt so much not just about sport but about life and community and what that means to me and, just as importantly, to others.

Rory has racked up a string of awards along the way (but those of us whove seen his game over the years would no doubt say less than hes deserved). He won the Colts Division 1 best and fairest in 2007 and named BOG in the YJFL Division 1 grand final that same year (and who of us lucky enough to see that game will ever forget it?!).

He shared the VAFAs Under 19 League Best and Fairest with Will Pickering in 2010 and was the GT Moore Medallist for the 2015 season. Then, last year, Rory was named BOG in the Roysfirst senior flag since the Reds and Fitzroy merged in 2008 and the most senior victory in the Clubs amateur history.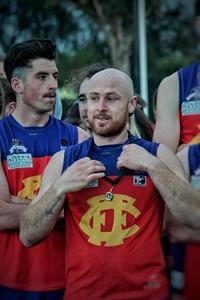 And that doesnt even take into account the multiple times hes made VAFA teams of the year or been runner up in the Redlow and VAFA best and fairest awards, including last season when he was pipped at the post for the L Zachariah Medal, despite missing six games!

Fitzroy is such a hub for people, both supporters and players,says Rory, and Ill definitely miss the mateship and camaraderie that exists at Brunswick Street.

We all have a favourite Rory moment, but the particular memory for this correspondent is Rorys response to a player from a (nameless) old school team when he made a homophobic slur to one of ours. Months before Joe Root was universally lauded for doing the same, Rory loudly suggested the sledger come up with a more intelligent insult, reminding him that in post-plebiscite Australia, such comments are dumb and dated.

So far this year Rory has turned his efforts to starting a new career as a fire fighter. Currently undertaking 20 weekstraining, Rory reckons its been a fantastic new challenge but, unfortunately, means he wont be able to play this season.

But doesnt mean that hell be a stranger to his legion of fans.


Ill be coming down to BSO any chance I can to enjoy a Kerry Burger and to soak up the atmosphere as a supporter, he says.

Intent on always learning as much as he could from every coach and every player, Rory asked us to close with a mention to those hes met since walking in as a 19 year old…

Michael Pickering has been involved in my life, and not just in my football, for as long as I can remember, as a strong role model and someone Ill always be grateful to for his guidance and support.

During my time in the Under 19s Tim Bell taught me the benefits of a good work ethic and the importance of training hard on the track.

Simon Taylor and Michael Wallis stand out as two people who taught me about what it means to play at a community club and I also learnt so much from them about how to play football.

Nick Mitchell was another coach who always pushed me to improve and be better.

Finally, Rory says it's awesome to now see Luke Mahoney at the helm.

He's definitely the right man to take this club where it's never been before,Rory says, and he truly belongs

Rory also gives recognition to Fitzroys prominent strong female role models he believes are unique to Fitzroy.

The work Sharon Torney does is incredible, along with our leader of so many years, our president Joan Eddy.

Not to mention my mother Kerry Winchester (pictured above with the GT Moore medal winner), a force of human nature we all love and respect./p>
Rory asked to say a few final words before finishing…

I'm proud to have been involved with Fitzroy for so long. There really is no other place like it on earth, from the supporters who turn up week in week out and tell us we are incredible when we feel like crap, to the volunteers like Dave Barnes who give up their free time to make game day possible, and to all the players who have grown up in the area or just found their way down to the BSO.

Ive always been embraced with open arms, felt at home and feel truly honoured to have been able to put in to and perpetuate that spirit./p>
Celebrating the many hairstyles of Rory Angiolella
With thanks to Phyllis Queally and VAFA photographers.