Congratulations to two of the Roy Girlsoriginal 2015 side who will reach the 50 Fitzroy-game milestone tomorrow, when the team takes on Old Xavs at Ramsden Street.
Captain and fierce mid-fielder Gemma Minuz, and towering full forward Liz Olney, have not only been fabulous on-field representatives of Fitzroy-ACU but you couldnt ask more from them off field. And in the traditional Fitzroy way, their families are right on board too.
In the lead-up to the game, the Red Roy asked their coach Mick Symons to say a few words:
Gemma is a tough on-baller who belies her size with her tremendous tacking ability. She reads the play well and will frequently gain clearances from stoppages bringing teammates into the game with her accurate kicking.
Gemma has a great standing amongst her teammates which contributed to her being appointed captain last year and once more in 2018. She is recognised as someone who sticks fast during tough times and will always be encouraging and leading her players form the front,Mick said.
Gemma also has plenty of fans outside the club, particularly Nick Armistead from the VAFA media team Mick said, referring to the recent reference to his captain as the beautiful Gemma Minuzon the VAFA Podcast.
An off field star in the making, Gemma was the first VAFA female player to appear on VAFA Tragics last year and she was also one of the panellists alongside Kaitlyn Ashmore and Angela Pippos at our Womens Football lunch in 2017, wowing the experienced journalist and broadcaster, Pippos, with her smarts, humour and relaxed style.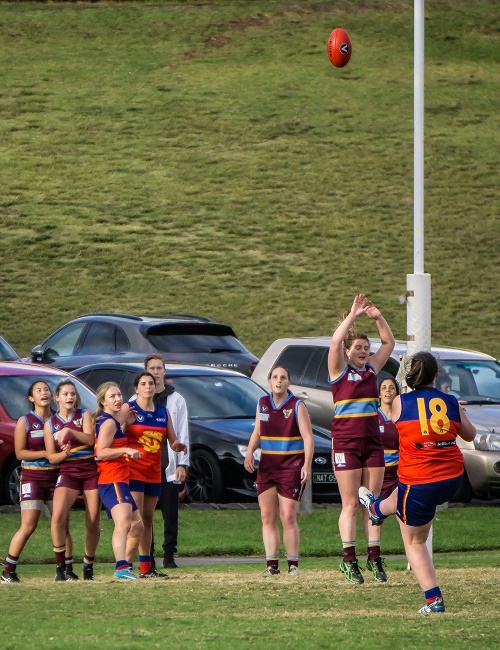 Liz Olney (pictured right, kicking for goal) is also one of the foundation Roygirls who started with Fitzroy in 2015. After playing in a few different positions, Liz settled into a spearhead role at full-forward and has become a regular goal kicker for Fitzroy shes kicked 44 goals in her 49 games so far.
Lizs stand out game was against Melbourne University in 2016 when she kicked 7 goals at Victoria Park a memorable occasion,Mick said.
Mick also said the Fitzroy-ACU squad and the club also appreciate the presence of Lizs dad, Rob Olney, who is the man in the white coat between the goals. He has provided terrific assistance to the team passing on his ruck knowledge from his playing days at Prahran in the VFA and Old Geelong and Old Camberwell in the VAFA./p>
Best of luck tomorrow to two of our brightest stars.