When ruck star and reigning VAFA William Buck Premier Womens Best and Fairest, Tash Ross-Harris, headed off overseas, the Roy Girls wondered how theyd ever find a successor able and willing to fill her shoes. We asked Senior Womens Coach, Mick Symons, to tell us how we may have done just that in an ex-basketballer whod never before put boot to ball. 
Bethany West came to football after years as an elite basketballer in both Australia and the USA. Shes been a squad member with the Canberra Capitals who play in the Womens National Basketball League and, after travelling to the US, spent time playing College basketball for a junior college in Jacksonville, Florida. After a few years off basketball, Bethany responded to co-gym mate and current team mate Perri Quattrociocchis invitation and spent her first-ever footy pre-season with Fitzroy-ACU.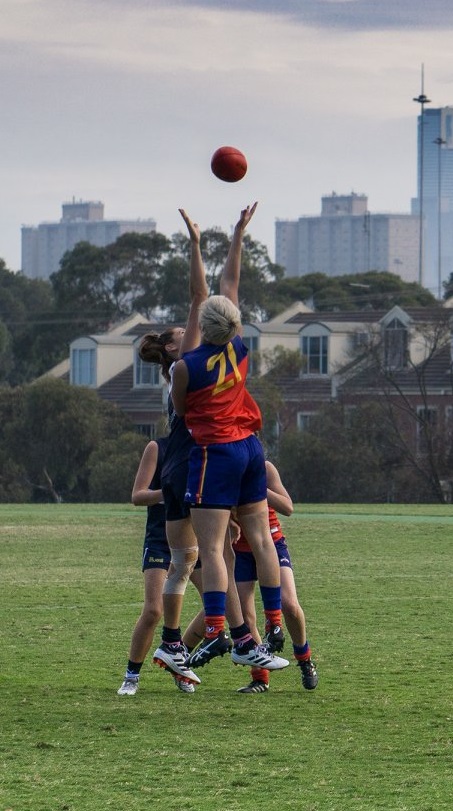 Westys ability to adapt quickly to footy meant she debuted for the Seniors against a formidable Melbourne University team in Round 1 this year,says Mick, breaking even against a more experienced opponent.

Although a small forward on the basketball court, her excellent leap means she is well prepared to play the role of ruck on the footy field.br />
Westy plays down any difficulties associated with the move from basketball to footy, claiming that the transferable skills and movements have actually made for quite an easy transition. Not to mention the girls are super supportive,says Westy, so when a kick goes astray, I dont cop it too much.

The game flows much like basketball, with just a way bigger space to run. Ive been working with Mick and the girls about where I need to roam and be, in terms of spacing. And I only have to know a few rules for the ruck so the transition hasnt been too steep!!br />
In Westys opinion AFL has been instrumental for a lot of women and youth. She attributes it to injecting a lot of confidence and support for people to get involved and, as she says (channelling Jacko), "to give it a red hot go".

The Roys womens group has a great culture too,says Westy, and I have no doubt that a lot of my enjoyment and positive experience is attributed directly to what the club has developed over the years.br />
Mick reckons Westys a player to watch as the season progresses and her confidence grows with match day experience. With each match she continues to improve, taking more marks around the ground, evading tackles, and amazingly holding the ball in the air one-handed challenging the opposition to catch me if you can

And while she refuses to reveal any team secrets or salacious stories (on the basis that a rookie knows not to divulge), Westy restricts herself to just two words in closing:
Go Roys!br />
We cant argue with that.