Its not just in the amended lyrics of the club song that the Brisbane Lions pay tribute to the Fitzroy of old Every year they back up their commitment by sponsoring emerging Fitzroy stars.
Generally we nominate one of the younger players whos come through from the Fitzroy juniors,says Brisbane Lions Victorian Manager Sam Lord. Which is why we were keen on Lewis Pavlich./p>
Given the overwhelmingly positive response to the inaugural AFLW side, and Fitzroy FCs commitment to womens football, Sam Lord says it seemed only natural to also nominate a womens player in 2017.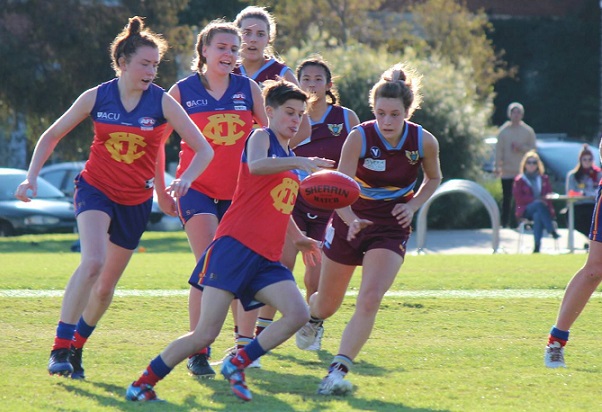 Georgina Stegall was the obvious choice,Sam says. Georgies a huge Brisbane Lions fan, and has an incredibly bright future./p>
Emile Pavlich (known to his team mates and fans as Lewis or Louie) says hes been bashing and crashing into the opposition at Edinburgh Gardens since he was 10 years old.
Now in his second year of senior football with Fitzroy, Emile started at Alfred Crescent and slowly transitioned on to the Brunswick Street Oval.
The Brisbane Lions was a team of superstars at the height of its illustrious back-to-back-to-back premiership streak that ended in 03,says Emile. The generation of kids at age 5, 6 and 7, like I was, felt inspired by such a dominant team.
Although a lot of us Roy boy youngsters didn't quite understand the circumstances of the Fitzroy cull, we realised that the Lions had a special place in the hearts of locals./p>
Emile thinks the Brisbane Lionssponsorship of younger senior players is a fantastic initiative, and feels very grateful that such a proud and professional club has sponsored him in 2017.
As a full-time uni student and amateur footy player, saving money can be a challenging and laborious task,he says. Receiving a sponsorship makes me feel extremely honoured and helps a great deal financially./p>
As for Fitzroy, Emile says playing for the mighty Roys means a lot.
It means riding through Edinburgh Gardens to the game on a Saturday morning, it means belting out the team song with your mates, and it means upholding that never-say-die Fitzroy attitude./p>