Fitzroy has secured its Senior Womens Coach for 2019, Gray Barton, and in a rare double act, his daughter, Maeve, will be the Senior Womens Assistant Coach.
In another coup for the club, Gray and Maeve have made the transition from the Fitzroy Junior Football Club, where they successfully coached the Youth Girls1 side to the premiership this year.
Gray says his eight-year coaching stint with the juniors is one of the most satisfying and rewarding experiences of his life.
For Maeve, who is finalising her VCE at Melbourne Girls College, this may be one of the best fortnights of her life! She has just started a voluntary team assistant role with North Melbournes new AFLW side and will now add the Fitzroy gig.
They are in no doubt of the challenge ahead in taking on senior coaching roles in the Premier Womens competition at the VAFA.
It is daunting but it is still a question of applying the right process. A group of individuals come together and understand their own potential and we ask ourselves the hard questions; how far are we prepared to push as individuals to see what is possible for the team?Gray says.
Whilst the premiership this year was a highlight, its not what Id regard as my greatest achievement. I enjoy seeing individualsdevelopment as part of the team; coaching and contributing to that is the rewarding part for me. Id also like to think I have a good understanding of game day structure and what works well.
First and foremost, it has to be about the players enjoying the experience, and finding the right way as coach for that happen.
This will change over time, but I think at the moment in womens football there is still a rapid rate of improvement possible because there is untapped potential with many players relatively new to the game,Gray says.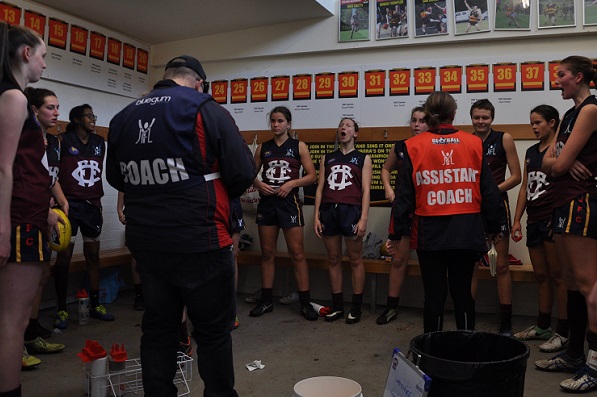 This year with the Youth Girls side we had several very talented footballers among a team that varied in terms of capability and experience we had some girls who also were very new to footy but the contribution of the less experienced players was just as valuable. The key is getting an even contribution across the team. Every player contributes to the team outcomes./p>
Gray says that with Fitzroy-ACU his focus will be on quickly gaining an appreciation of the capabilities and how the team plays together, so he can see the strengths and how they might be used to best advantage.
In a broader sense hes also keen to be part of the wider club. I have a strong appreciation for the history of the club and how it should see itself, Gray says.
With a professional life where hes managed to incorporate his passion, Gray also has a lot of experience dealing with people operating in the elite environment of AFL (and other) clubs, which he says gives him a unique insight. I like to think I see football from many different perspectives./p>
As Director and Owner of an architectural practice, Gray works exclusively on Sports and Recreation projects for Local and State Government for over 20 years, as well as peak sports bodies such as the AFL, AFL and VFL clubs, AFL Vic, and Cricket Victoria. He has provided high performance training and administration facilities for Carlton, Hawthorn and St Kilda Football Clubs. But his pride and joy is working for North Melbourne for the past 12 years at Arden Street including the current facility upgrade to provide new AFLW and VFL player and training facilities for the Kangaroos.
If you havent guessed already, the Bartons are rusted-on North fans.
With a unique opportunity to talk coaching and game sense when they pass each other at home in the hallway, the Maeve and Gray are of a similar mind when it comes to most aspects of the game.
We watch a lot of football together and that includes a large amount of womens football, going to see Darebin and other VFLW sides play and so we have a shared understanding and talk about the game a lot.
As coach and assistant coach, one of the responsibilities is to know the strengths of each player sometimes we disagree on these things, but mostly its constructive,Gray says.
A footy tragic, Maeve, who had her own playing career cut short due to chronic fatigue, has found any way she can to stay involved. She completed her level 1 coaching accreditation in 2017 and this year stepped into the assistant coaching role with the Youth Girls.
So impressive was her work with the team, Fitzroy Junior Football Club awarded her the Club Champion James Doughney Award, and the Rotary Junior Leadership Award for 2018.
Maeve seamlessly stepped from team mate into advisor and from Grays perspective, was particularly helpful when it came to encouraging some of the inexperienced players feel free to ask questions and learn from a more experienced, recent player.
Im still learning but Im very excited to be taking the next step with my coaching,Maeve says.
Despite taking on a role coaching some of her mates this year, when the moment arises Maeve is quite confident pulling people into line and getting them to focus on the task at hand.
Now in a voluntary coaching assistant role at North Melbourne, Maeve is doing whatever is required and wherever they need her setting up drills, filing up water bottles Its just great to be involved./p>
The position at North came about due to the connections she and Gray had established over years at North Melbourne, but also because North Melbourne Head of Football Operations, Laura Kane, had been so impressed to hear of the Fitzroy Juniors Youth Girls story this year and the manner of their comeback win in the grand final.
When asked if she is living the dream, Maeve says I dont know how it could get any better./p>
Probably the only thing that might make better would be securing a nursing/midwifery spot at ACU once she gets her VCE results.
Oh, and maybe a Fitzroy-ACU Premiership!