Fitzroys official timekeeper, Suzanne Madeley, is adept at watching the clock. She does it week in week out for the firsts, and the seconds, at home and away. Now she's turned back time to take a look at the early days of the FFC, her familys unbroken loyalty to the club, Fitzroys infamous local characters and football greats. In the process, Suzanne paints a vivid picture of what it was like to grow up and go to school in the benign shadow of the Brunswick Street Oval.
My great grandparents, James Wynne and Jane Madeley, arrived in Melbourne in 1873. James was a bootmaker and, thanks to the gold rush of the previous decade, the city was the wealthiest in the world. This meant that establishing a business on the corner of Brunswick and Leicester Streets (where James and Janes house was also situated) was not particularly difficult, and their shop quickly grew into a factory, specialising in men's work boots. Contemporaneously Fitzroy, Melbourne's first suburb, grew into the city's first manufacturing hub.
James displayed his products in the Melbourne World Exhibition of 1880 and won a striking, solid silver medallion.
By the time the Fitzroy Football Club commenced in 1883, James and Jane had been established in Fitzroy for 10 years and became one of the donors who made Fitzroy a wealthy club. So, while many early teams sported woollen knitted jumpers, Fitzroy players took to the field wearing gorgeous, soft, chamois leather jerkins, tinted in maroon and gold, and paired with royal blue knickbockers (the same colours our players wear today). The jerkins were made to order in England and transported to Melbourne by clipper ships.
One day, a very poor young man came to the factory begging for work. Jane was in the office and gave him the job he desperately needed his name was John Wren. Despite his infamous career, John became a friend for life, never forgetting my great grandmothers kindness.
James and Jane had three children, the first dying in infancy and two others, Albert and Beatrice. Albert became a Fitzroy cricketer who also attended football games when FFC was subsequently formed. Albert married Emily Clinton (a Carlton supporter). Emily decided to convert to Fitzroy to keep peace in the family. They had two children, my father Lester and aunt Jeanette. In the family tradition, Lester became a Fitzroy cricketer as well as playing baseball for the Fitzroy Baseball Club. In those days, Saturday afternoon football games were preceded by a baseball match (no Seconds game then). In this way, my father became friends with both the Fitzroy footballers and cricketers of his day and was a well-known sportsman in his own right. When Haydn Bunton joined FFC, he was billeted to our family home in Michael Street.
During the great police strike of 1923, my 15-year-old father accompanied by my grandfather camped in the family business armed with loaded shot guns to protect the premises from the mass looting and rioting which ensued.
Sqizzy Taylor was on the loose, the 1920's were roaring, and the erstwhile elite suburb of Fitzroy was developing rough edges.
When my father married Enid Truscott (pictured), her conversion to FFC was not quite so easy. She was first cousin to the famous Melbourne captain and WWII Spitfire Ace Keith (Bluey) Truscott and all the family followed Melbourne. Thankfully, it did eventually happen. My father was in action in New Guinea during the war when my mother and grandmother attended Fitzroy's last grand final against Richmond in 1944.
I was the next baby to be swaddled in FFC colours, followed three years later by my brother, David. We both attended the little primary school in Alfred Crescent opposite the Brunswick Street Oval. At playtime, we were allowed to cross into Edinburgh Gardens and in Autumn, could hear the gods of football practising. In those days the oval was encircled by a great brick wall.
Kevin Murray worked for Slade's Lemonade, delivering crates of soft drink. Every kid in Fitzroy nagged their parents to buy lemonade by the crate and have their hero deliver it. We all came down with sudden, mysterious maladies on delivery days. Let off school, we watched, goggle-eyed as our hero, tanned, muscular and lean, sprang panther-like from his truck and put the heavy crate on the front veranda as if it was as light as a feather. "Did you see him?!, did you see him?!wed be asked at school the next day.
A smouldering war between the kids of Fitzroy and Collingwood continued unabated for as long as I can remember. I was a tomboy of the back lanes, streets and parks, one of the feral kids who ran free and not expected home until dark. Armed with v-shaped wooden slings we called shang'ai's we were all good shots, propelling our missiles of choice the abundant supply of soft, red berries which grew everywhere by elastic strips and splattering one another with indelible stains our furious mothers tried to eradicate.
I cant remember a time when I didnt attend the footy, surrounded by throngs of supporters, one of the tribe. Melbourne was a sea of moving football colours each Saturday as supporters, decked in their various strips, crisscrossed the city to attend the home and away matches. As I grew older I watched this massive sporting pageant, thinking what a great tourist attraction it would be.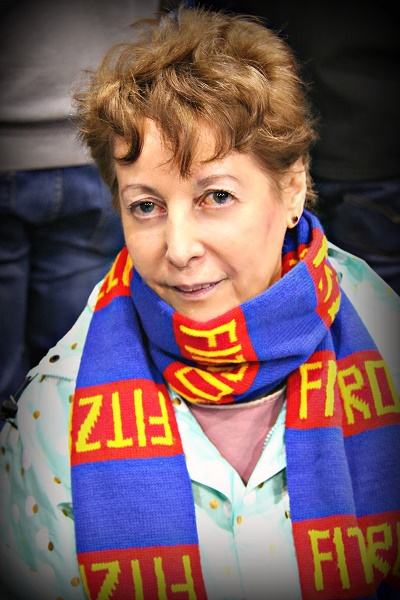 I am unaware of any other world city which mounted such a complex sporting carnival on a single day. Sadly, and to our Clubs cost, the AFL did not see this potential.
I eventually married and didn't see a footy game for the next 12 years. This and other factors, made life miserable, so I left. I rekindled a far better relationship with my beloved FFC.
After my dad passed away, mum and I continued to go to the footy. FFC had its ups and downs. There was a season when we won one game, there was a game when we scored one goal.
FFC became nomads, playing at various grounds and finally at the Western Oval. Never mind we were down on our luck. So what if we were around the bottom of the ladder. We'd been there before, our luck would change; we were back in the tribe and loving it!
Little did we realise what others had planned for our dear old Club. The unthinkable slowly emerged, the AFL was plotting to annihilate Fitzroy and in spite of a tremendous defence, we lost that final game.
My roots had been chopped off, my quiet fury has never abated. My brother walked from football, he married and his two adult children have no interest in Australian Rules. My darling mother died at the age of 93, and I was in despair until that historic meeting was called at the Fitzroy Bowls Club by the Board of FFC.
With enormous joy I saw FFC rise from the ashes to be reborn in the Victorian Amateur Football Association. My quiet dream is now being fulfilled, FFC is a big (and growing) suburban club. I hope that it will have a large, stable supporter base which will ensure its continuation into an ever-brighter future.
Preserving our history and traditions is important to me, as are the wonderful young men (and now young women) who have played and currently play in our gorgeous colours, in our marvelous VAFA years.
Fitzroy forever, forever Fitzroy, never forget, never forget.
Main photo: Suzanne off to the football with brother David.
School photo: Suzanne (second from right, second back row) has hardly changed a bit!
And portrait of Suzanne by Phyllis Quealy.