Elite was the word used to describe backman Max Elliss season as he was awarded the Greg Roughsedge Perpetual Trophy as Fitzroys Best and Fairest player for 2017 on Friday night.
But ask his team mates and his former coaches, and its not the only compliment likely to come his way; coachable, respected, committed, determined and most of all, never beaten.
It's really good playing with someone like Max because you know he is going to give 100 per cent each week and he never gives up, and he makes those playing alongside him better,said Captain Rory Angiolella.
I think Max is a really deserving winner of the Greg Roughsedge trophy. His consistency on the football field was mirrored through his dedication to training. He barely missed a training session from the moment he came back in preseason. Although he is a quiet person around the club, he is super competitive and takes being beaten on the field really personally, which is why week in week out he was getting the better of the most dangerous forward for the opposition.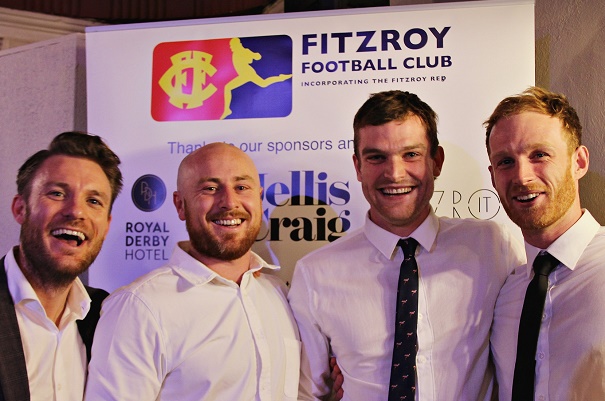 Max is also a die-hard Fitzroy boy and he really cares about the club. I think that came through in his football this year,Rory said.
Rorys comments are mirrored by those of Maxs Under 19s coach, Tim Bell.
The thing that I probably remember most about Max is what an absolute pleasure he was to coach, a really quiet and respectful guy. A team player, greatly respected by his peers.
He was so coachable, you would give Max a job to do and he would never let the team down. Pretty much what you see now is what I saw when I coached him. He took on board all advice and played at a hundred percent, week in, week out. Max never played a bad game. He had great anticipation and was a really good mark and kick.
What probably elevated him above a lot of others, was his absolute determination and concentration - never beaten……never. It was an honour to coach him and I feel privileged that I had the chance to do so.
We are lucky to have him at the club,Tim said.
After a year away from football travelling in 2016, Max made his intentions clear in Round 1 against Parkdale, standing out in an exhilarating three point win to Fitzroy.
When the team was most under pressure Max was at his best, perhaps demonstrated most clearly by his two best on ground performances in Fitzroys final two games this year.
The strong, silent type of the backline had a season of great pressure but you never would have known from his cool, calm decision making.
In his acceptance speech, Max thanked his team mates, coaches, sponsors and 2017 Senior Coach Nick Mitchell for his commitment, time and effort this season, saying no one could doubt the passion he had for the players and the club.
He called for the players to stick together and go back up
Its a great club to play for and I think thats mainly due to the huge support we have, which just makes playing as part of the seniors so special, so thank you./p>
Like a number of his team mates, Max is a home grown Fitzroy player, starting as a junior coached by his dad and current Fitzroy scoreboard attendant, Mike Ellis.
He played with Fitzroy all the way through to Colts and had the benefit of Tim Bells coaching at Under 19 level. He has previously collected two coaches awards along the way.
Its hard to think of someone with better Fitzroy pedigree Max went to North Fitzroy Primary and Fitzroy High. He is now a teacher at Wheelers Hill secondary college.
Congratulations Max on an outstanding season.
The other mens winners were:
Runner up Greg Roughsedge Perpetual Trophy Julian Turner
Reds Foundation Best First Year player award Nino Lazzaro
Marsden - Moriarty Superboot Trophy as Fitzroys leading goal kicker Nino Lazzaro
The SeniorsCoachs award Ted Clayton
Marc Marsden Perpetual Trophy for best and fairest in the Reserves Olmo

Salvatore

 
Reserves Runners up - Jono Anderson and Liam Sugrue
Reserves coachs award Tom Robinson
Tim Madden Perpetual Trophy for the Thirds best and fairest Simon Heather
Thirds runner up Tim Denatris
Thirds Coachs award Keith Dimech
Stephen Drury Perpetual Trophy for best and fairest in the Under 19 (1) team Oscar Sutcliffe (see story below)
Under 19 (1) Runner up Gus Richardson
Under 19 (1) Coachs award Angus Ryan
The Bill Atherton Trophy for the best and fairest in our Under 19 (2) Rhys Dolby.
Under 19 (2) Runner up Eddie Gosling
Under 19 (2) Coachs award - Giovanni Colarossi