Fitzroy collected two media awards at the 2018 VAFA Media Awards last week, bringing the clubs total to four in two years.
In the second year of the awards (and the first marked with its own awards event), Fitzroy was awarded Best Photograph (Action) for Peter Casamentos great Gatorade shower shot in the rooms at BSO after a big win over Williamstown (pictured), whilst Kate Nolan was awarded Best Online story (news) for a piece on Rory Angiolellas decision to hand over the captaincy.
The awards attracted over 150 entries and Fitzroy had eight shortlisted entries in seven categories.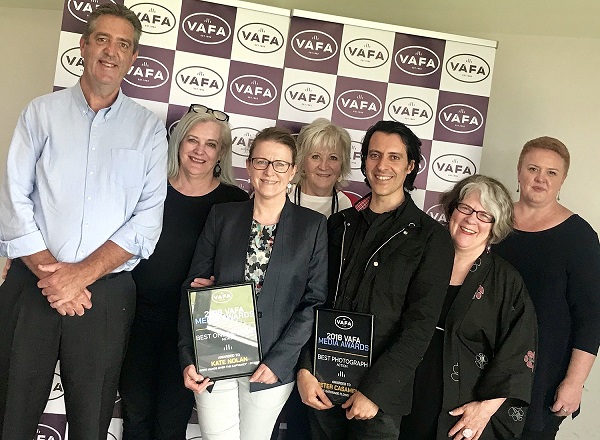 Congratulations to all the shortlisted entries, which included two of Phyllis Quealys beautiful photos for best photograph (character of the game) and two of Gabrielle Murphys feature stories, including a fantastic piece on the Leydon familys long-time love and following of Fitzroy. New-comer Matty Kyroussis was also shortlisted for the Risk Care Roundup series in the category Best use of Digital Media (series). Our Let There Be Lightcampaign, featuring the Fitzroy-ACU squad dancing in the dark at Ramsden Street, was shortlisted for Best use of Digital Media (campaign).
Pictured at the VAFA Media Awards lunch at Elsternwick Park: David Leydon, Gabrielle Murphy, Kate Nolan, Phyllis Quealy, Peter Casamento, Joan Eddy and Sharon Torney.