The VAFA has named this weekends round of footy, the 125 year Club Round, to celebrate the people who have made amateur football great throughout the last 25 years since the VAFA Centenary.
The Fitzroy Directors went back through the history of the club in the VAFA for the last quarter of a century, which of course included the successful days of the Fitzroy Reds, and identified four people who have made an incredible contribution to the club in the VAFA categories.
The four who have made the most significant contributions to the ongoing success of the club between 1992 and 2017 are:
VOLUNTEER BILL ATHERTON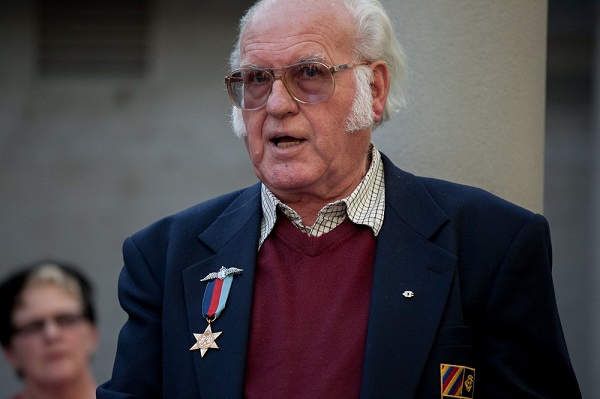 We dont really have enough space to run through everything Bill Atherton has done for the Fitzroy Football Club during his continuous involvement with the club since 1995.
He has been a member and supporter for a lifetime.So much so that his son Ben also played for the club in the 2000s and 2010s and his wife Debbie has also helped with volunteering for duties while Ben was playing.
Bill calls himself the back officeat Fitzroy and to say things couldnt run without him is an incredible understatement. Officially Bill is the football clubs Company Secretary, but he is so much more.
Bill lived through the painful years of Fitzroys separation from the AFL and then proceeded to set up the Fitzroy Foundation, which helped to take Fitzroy out of administration. This allows Fitzroy Football Club to operate today as a thriving community football club.
Now, Bill does all of the accounts for the club, runs the Fitzroy Shop at Mordialloc, collects a vast array of Fitzroy memorabilia and fulfils all of the online orders for Fitzroy merchandise that come in from around the world. He manages the member register and ensures the membership renewal program runs every year.
Bill is also the one who is responsible for managing all the statutory compliance issues and makes sure that the club meets all of its statutory reporting obligations and reminds Directors of their fiduciary duties.
When Fitzroy fans purchase their merchandise at Brunswick Street Oval, Bill has made sure the gear is there and ready and if hes not manning the shop table himself, he makes sure someone else is.
But most of all he is the keeper of the knowledge and history of this great club. Bills love for Fitzroy is passionate and steadfast. He was instrumental in doing the deal to merge Fitzroy and the Fitzroy Reds in 2008.
We cannot thank him enough for all of his hard work and determination to keep this great community club running. Without Bill the club would not have survived this far and would not be in the position it is.There are many members and friends who will be forever grateful for his single handed efforts in keeping the Club going and having the jumper back at Brunswick Street.
UMPIRE LLOYD BROWNE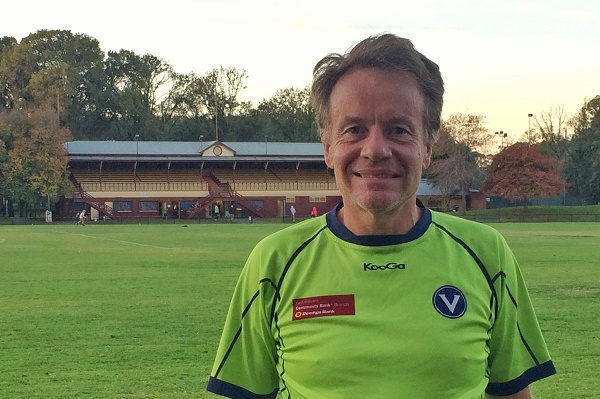 Lloyd Browne has been Fitzroys official umpire for over 23 years and in that time he estimates hes umpired about 400 games. Not bad for someone who reckons he was dragooned into umpiring after he finished playing because no one else wanted to do it.
After doing just home games in his first season, Lloyd has umpired just about every week ever since. From 1994 to 2009, Lloyd umpired only Fitzroy Reserves games. Since the club's elevation to Premier C and subsequently B, hes been included in an umpiring pool, officiating everything from C Thirds to A Reserves.
And even the occasional seniors match,says Lloyd, when the league is desperately short of proper umpires./p>
As an umpire Lloyd aims to be as invisible as possible and, he says, to bring order from chaos, stop the little blokes from getting injured, and apply the rules without annoying too many players
Having been with the club for so long, Lloyd is a good person to judge whats good about it, what his fellow umpires think about it, and how its changed over the years.
My fondest memories are turning up at Brunswick Street on a beautiful Melbourne autumn day to participate in the greatest game on earth,he says.
COACH GRAHAM BURGEN  
Graham Burgen has extensive experience in mens and womens football as a coach, but his time with the Fitzroy Reds was incredibly successful. He coached for seven years altogether in two separate stints. In that time he coached the club to three flags in 2001, 2003 and 2005, taking the club from F grade all the way to Premier C.
He was named VAFA coach of the year in 2003.
Graham also contributed to the longevity and success of the club by ensuring a strong alignment with the Fitzroy Junior Football Club, supporting the establishment of an Under 19s team to create a pathway from juniors to seniors, and working hard to ensure the culture was more strongly focused on winning football.
Since his time at Fitzroy, Graham has been a leader in the rise and rise of womens football. He has been senior coach at the AFL Victoria VWFL Academy overseeing the development of young talent, as well as high performance coach at the Calder Cannons FC. He was University of Melbourne Womens FC Director of coaching in 2014 and 15 and is now the assistant coach for Carlton Football Club AFL womens team
PLAYER STEPHEN DRURY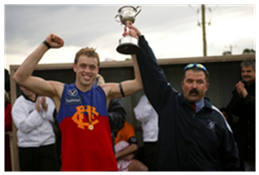 Fitzroy Reds Premiership captain and life member, Steve Drury (pictured with coach Graham Burgen), played 200 games and captained the Reds through a period of sustained success in the late 90s and early 2000s.
Steve was captain of the club for five years from 1999 through 2003 and was twice premiership captain, including in the year Fitzroy went undefeated and won the 2001 D3 premiership. He won four club best and fairest awards, sharing the honour in 1996 and 2000, and winning it outright during the premiership year of 2001 and then again in 2002.
He was appointed captain under coach Grant Hammond, who saw in him fantastic on-field leadership qualities and he continued as captain under coach Graham Burgen. He played as a utility and was as effective in defence as he was at sneaking forward and getting a goal.
Aside from his on-field leadership, Steve was a very likeable character at the club making it an open and welcoming place for new players.
Congratulations is not really enough for these four. They will be celebrated and acknowledged at pre-game lunch during August, with official VAFA medallions presented to each. Details of the lunch will be released in the coming weeks.