Fitzroy is a long way from the US, but two women are bringing a little piece of New York to the club.
New not only to Melbourne but to Australian Rules football, Fitzroy-ACU Women 2 player Perri Quattrociocchi is from upstate New York, while team manager Yadira Perez Hazel was born and bred in the Bronx.
Both knew of AFL while still overseas, but neither had ever picked up a Sherrin before moving to Australia.
Perri, a systems engineer with an aviation communication company, sold everything and moved here with a hope and a dreamin December 2016 after researching new places to live, and visiting Melbourne and loving it in 2015.
Meanwhile Yadira, a cultural anthropologist and oral historian, arrived with her husband Clinton and two children (pictured holding up a banner for their mum) in February 2016 ready to start the next stage of their life in a new city. They had never visited before but were told by friends youre going to love Melbourne
While they hail from a similar part of the world, Perri and Yadira were drawn to Fitzroy for different reasons Perri, due to her long history in sport, and Yadira due to the community and culture involved in a local football team.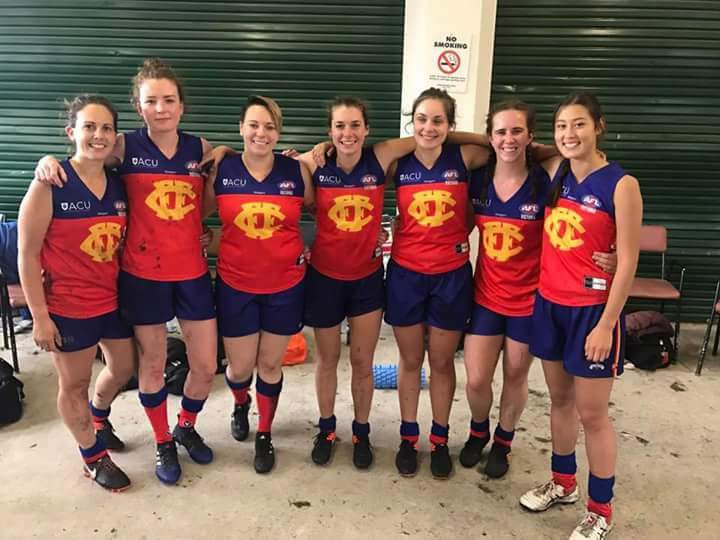 Perri (pictured third from the left), who has long played soccer and roller hockey as well as American football, was pointed in Fitzroys direction by a friend after saying she wanted to try Australian Rules.
I walked into practice a few months ago. No joke! A few of my friends gave me a quick intro into hand passes and kicking once, and then two weeks later I wandered by a Fitzroy practice,she says.
Jo (Hogan, Fitzroy-ACU Women 2 coach) saw me loitering by the fields and told me to jump in. That was day one for me and I ended up learning on the job.?/p>
While Perri says gridiron and Aussie rules are quite different (American Football has a lot of start-and-stop where AFL is constant movement, her sports history has helped her adapt to her new game.
I wouldnt say that American Football or hockey are very close to footy, but having quick feet, a big kick and no fear in tackling has definitely helped my transition to AFL,she says.
Yadira, new to contact and organised sports, joined Fitzroy this year with her neighbor and now co-team manager Stacey, who was also new to Melbourne after moving from Western Australia.
Stacey told me, I know you said you wanted to get involved in a community organisation, and I know you like group fitness. I was thinking of going to check out this womensfooty team…And the anthropologist in me was like Ooh, footy, Victorian culture! This is the way to get involved locally and get to know something thats pretty big in this part of Australiashe says.

Both women say their favourite aspect of being part of the club is the Fitzroy-ACU Women 2 team, who have supported them while they learn Australian Rules.

Fitzroy FC has been so welcoming and the girls have been so supportive,Perri says. I came here knowing none of the rules and feeling a bit lost on the pitch. Jo, Mick and the team have done nothing but encourage me and help me to become a better footy player.

Yadira says the team were really welcoming and committed to the sport./p>
When you are in a supportive team, you feel it. You feel involved, you feel like you belong, you honestly feel the energy of all these bodies./p>
She says she has learned the game by being transparent and being open to making heaps of mistakes,as well as taking the advice of her teammates.
They say Im a really good tackler, but you cant tackle people if they dont have the ball,she laughs.
While team manager this year, Yadira is training with the team and developing her knowledge of the structure and rules of the game, so she can take the field as a player for Fitzroy-ACU Women 2 in 2018.

Both of Fitzroys New Yorkers say they love the diversity and culture of their adopted city.

Yadira says she likes that each Melbourne suburb has its own flavour, and that the city has a kind of confidence about what it is./p>
Perri says she enjoys Melbournes art and people. This city embraces art; street art, live exhibitions, museums, sculpture installations, Aboriginal tributes, festivals (White Night being one of my favorites)…the list goes on. In terms of the people, I have traveled all over the world and this is one of the few places where the average person is not only friendly and helpful, but truly loves where they live. It gives the city such a welcoming vibe, she says.
Neither Perri nor Yadira have yet completed their Melbourne transition by adopting an AFL team Perri says shed like to be around for a season first to get a feel for the teams, while Yadira says she is open to finding a team, but hasnt chosen one yet.
Yadiras daughter, however, has chosen the Hawks as her team, and has proven to be a quick learner in Melbourne football culture.

She is really invested in it. We take the train, and if we stop in Collingwood, she boos,Yadira laughs.