Former Fitzroy AFL player, Nick Mitchell, will take on the 2017 senior coaching role at the Fitzroy Football Club, as it sets a course for a promotion to Premier Division in the Victorian Amateur Football Association (VAFA).
The 2016 co-coach was appointed by the Fitzroy Board during the week and announced as the new senior coach at the clubs Redlow(best and fairest) celebrations on Saturday night at Rydges on Swanston.
Nick, who was on the Fitzroy Lions senior list for four seasons in the AFL in the 90s, playing nine senior games, says hes both relieved and excited to have been appointed. He is the first former Fitzroy AFL player to take on the role with Fitzroy in the VAFA.
I am excited because I think for the last few years weve been on the cusp of something special. I want this group to experience finals./p>
Nick was Senior Assistant Coach alongside Michael Pickering in 2015 and co-coach in 2016. Pickering recently announced he was stepping down after five years in the role to spend more time with family.
Finals is the aim for next season, but we know it wont just happen. We need to keep improving and working harder,Nick said.
Michael and I were very aligned in our thinking, so you wont see massive changes in the game plan but you need to fine tune, keep it fresh and find that balance between hard work and fun.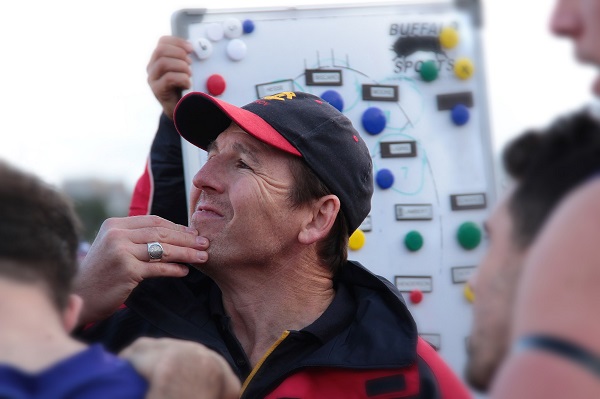 We have a strong core group of experienced senior players in the side and seeing the kids coming through is most exciting.
Fitzroy gained plenty from the inclusion of former Under 19 players Aidan Lambert, Max Davie and Lewis Pavlich, along with current Under 19s, Jacob Long, Aiden Burke and Will Symons during the season.
Having missed out on Premier B finals in 2016 by just two points in the washup, Nick says the key to Fitzroys improvement is working hard in the pre-season.
You cant start 0-4 like we did this year. We need to have everyone doing the hard work together from early in the pre-season and then well see the improvement in our fitness./p>
Fitzroy Football Director, Grant Hammond, said Nicks passion and outstanding knowledge of the game, along with his rapport with the senior playing group, had impressed the club and they had no hesitation in appointing him.
His keen understanding of the Fitzroy history and sensibilities also helped.
Its like being back at home for me,Nick said.
Not only was Nick a Fitzroy player, but his father Gus was the chairman of selectors for Fitzroy in the mid-90s and Nick says he always had an affinity for the club through his fathers close friendship with Club legend Don Furness.
Nick brings excellent playing and coaching experience to the role. He had three years as Senior Coach at Old Geelong FC (2009-2011) and Assistant Coach with St Bernards, where he took over the senior reins in the latter part of 2013. Nick has been Senior Assistant Coach with Fitzroy since late 2014.
As a player he was a premiership captain and best and fairest winner with St Bernards and regular representative in VAFA state teams. Nick was a premiership player at West Brunswick in 2014 and has played over 300 senior games.
The club thanked Michael Pickering for his outstanding work with the players as senior coach over the last five years and it is hoped he will continue his involvement with Fitzroy in future seasons.