Lauren Atkinson is known to many as Jacky Fowler. But as the Bard says, a rose by any other name would smell as sweetand whatever we call her, we recognise her essential integrity, determination and grace on the field.
 
Lauren Atkinson has notched up a run of firsts on her way to 50 games for the Roy Girls.

She played in the first-ever womens game for Fitzroy after attending just one training session.

She went on to kick the first-ever score, with her single point turning out to be the only score the Roys registered that day.

Later in the season Lauren played in the inaugural Hipster Cup, a night game at Vic Park, something she rates as pretty special.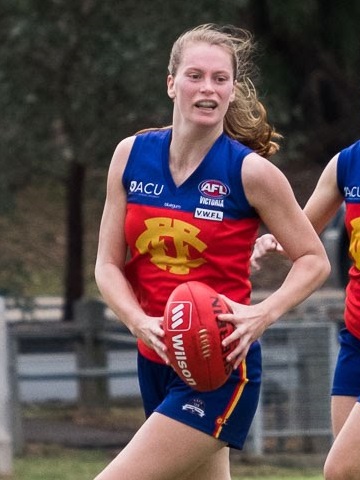 Things have come a long way since those early days five years ago, and Lauren has been there to experience all the highs and lows.

I just love the community vibe and the rich history of the Fitzroy Football Club,she says. Its also great being surrounded by so many strong, incredible girls, and I like the level of competition.

I couldnt imagine playing anywhere else!

We should probably point to some occasions when Lauren has come second, and thats been when shes earned second-best-on-ground honours as a result of being thrown down back to negate renowned forwards. And, it must be said, performing her job admirably, keeping her opponents to miserly totals.

Most of you would also know that Lauren is the youngest Atkinson in the Fitzroy branch of the family and younger sister of Reservescaptain Jack. And wouldnt be surprised that, when asked to pinpoint a highlight, she nominates playing with sister Chrissie.

It was pretty fun getting to play with my sister, especially back in 2016 when we played in the midfield together,she says. Other than that, I loved playing with my fellow backliners Luci Murphy, Claudia Bell, Emma Delaney and Lenny Hayes last year./p>
Exceeding everyones expectations and making the grand final in their second season ever also rates a mention.

And Ill never be able to forget everyone forming a circle to cry and sing Torntogether after losing our final in 2017.

The origin of Lauren Atkinsons nickname is shrouded in mystery but one things for sure: however we refer to her, shell be one to watch this season as she takes the field on her first foray towards another fifty fabulous games.

Go Jacky Fowler! Go Roy Girls!

The Fitzroy Football Club would also like to congratulate Laurens former teammates Frankie Freeman and Susie Worthington who, pending selection, will be celebrating 50 VAFA games when they run out for the North Brunswick Bulls on Saturday.

Photo: Lauren Atkinson, a perfect balance of elegance and strength