In the lead-up to Reconciliation Week last week, Fitzroy-ACU Womens leadership group member and player, Emilie Goegan, headed up to Alice Springs with her employer, Red Dust, a not for profit which delivers health promotion programs for remote Indigenous communities. Red Dust also sponsors Emilie at Fitzroy. She told us a bit about her experiences including learning some deadly new footy skills.
Q. Tell us a little about how you heard about Red Dust and why you got involved? How does Red Dust plan to make a difference?
A. I started as a volunteer at Red Dust mid-2016, as Indigenous health and rights have always been a passion of mine. Generations of Indigenous Australians in remote communities have lived a life impacted by poor health. This affects the whole community, especially young people. Red Dust believes that good health is the key to a bright future and that health outcomes can only be made possible through a two-way exchange with communities.

Q. What does your role entail?
A. I am the Red Dust Business and Communications Manager in the Melbourne office. A pivotal part of my role includes program delivery at least four times a year, although as this year it looks like it will be more.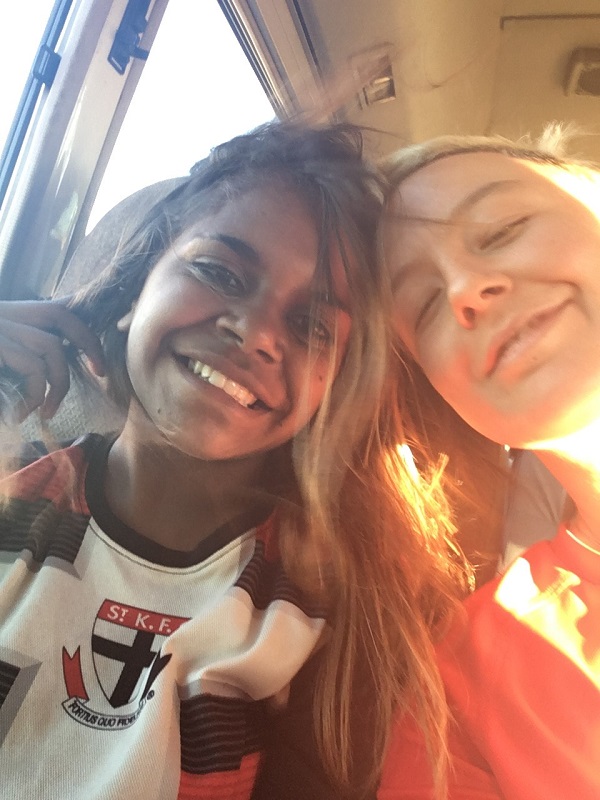 Q. When you go on these trips, what is the purpose; what do you do?
A. At Red Dust we have three core programs. The Healthy Living Program focuses on youth nutrition, health and exercise. We aim to bring out strong role models such as professional athletes to help inspire and motivate the kids to come to school and gain education on healthy living choices. We also have Strong Young Women and Strong Young Men and Boys Programs respectively where we focus on gender-specific health issues and positive life choices. Red Dust wants to maintain our aim of health promotion and education, as health is everything.
Q. What do you see out on country that you wish every Australian could see?
A. I want our country to see the incredible and strong community members I see each time I deliver a program. Indigenous communities are often stigmatised with a lot of negative media. But there are amazing individuals positively contributing to their communities, schools, families and their culture; strong Indigenous leaders, teachers, support workers, police officers and parents.
Q. Is sport and football a good way to lead into other conversations with Aboriginal communities?
A. Over the years we have had great involvement with numerous AFL players, such as James Hird, Cyril Rioli, Luke Darcy and Will Minson to name a few. AFL is a hugely popular sport in all communities and has grown some spectacular athletes. As many believe the rules of AFL are largely borrowed from the traditional Indigenous sport called "Marngrook", football will always be a special sport in Indigenous culture.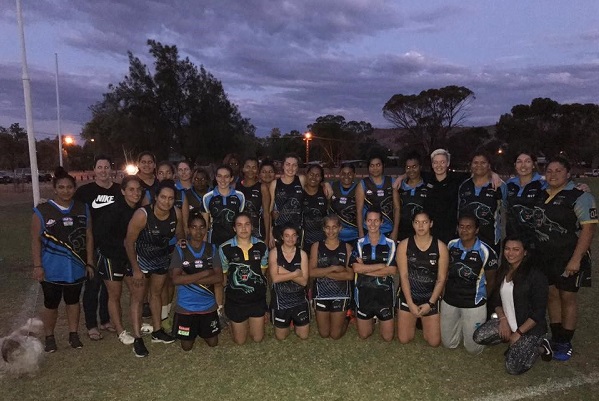 Q. Did you get to play a game of footy while you were up there? What was the experience like? What skills are you bringing back to W2?
I was fortunate enough to train with the deadly Alkamilya Panthers women's team. The girls, like the Fitzroy teams, have a variation of ages from mums to their daughters! For a brand new team, the natural athleticism and flare for the game was incredible, and there coach Shaun Cusack was fantastic. Next time I am up there for work I have been invited to play on game day which will be super exciting! Shaun and the girls were incredible at booting long distances goal on the run which I hope to see more in the mighty Roy Girls!