It was a day of firsts at Gillon Oval on Sunday, with Fitzroy-ACU looking old hands as they put on a dominant display against the Brunswick Renegades to hold the Hipster Cup and win their first game of VAFA Wilson Womens Premier footy.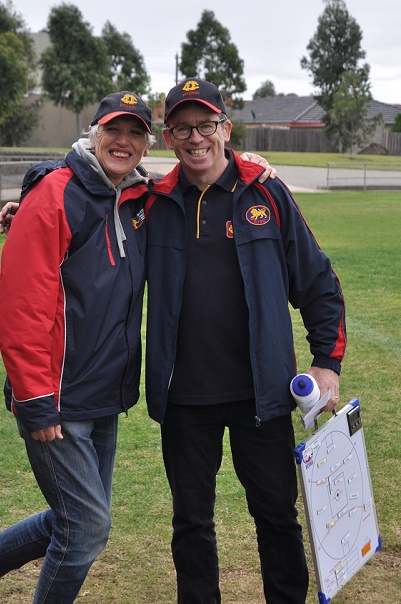 It was also a first for new coach Mick Symons (pictured with W2 coach Jo Hogan), who must have been pretty thrilled with his chargesefforts all day in a hard-working full team effort despite the terrible weather conditions.
The girls said they felt that maybe they had something to prove. We did so well in the VWFL last year, and after electing to play in VAFA I think we all wanted to prove that we deserved our spot in the Premier division as one of the establishment clubs./p>
And play like an establishment club they did.
The W1s had a comprehensive win over Brunswick and were able to control the game despite the challenging conditions, winning 7.12.54 to 1.0.6. Brunswick scored their only goal in the final quarter.
It was the Hilary and Hilary show in front of goal, with leadership group player Hilary Grubb showing her fitness around the ground and scoring three goals. Hilary Collett scored two. Playing her first game with the club, Anabel Watson showed plenty of pace and good game sense, while Tash Ross-Harris was fantastic in the ruck. It would have been hard to single out the best players given the even contribution across the ground.
It was a special game in more than one way, with Renegades player, Claire Woodhouse, playing her 200th game an incredible achievement in womens footy and the Roy Girls showed her the ultimate respect lining up with the Renegades for a guard of honour as she left the ground. She was also the Renegadesgoal kicker. Congratulations Claire.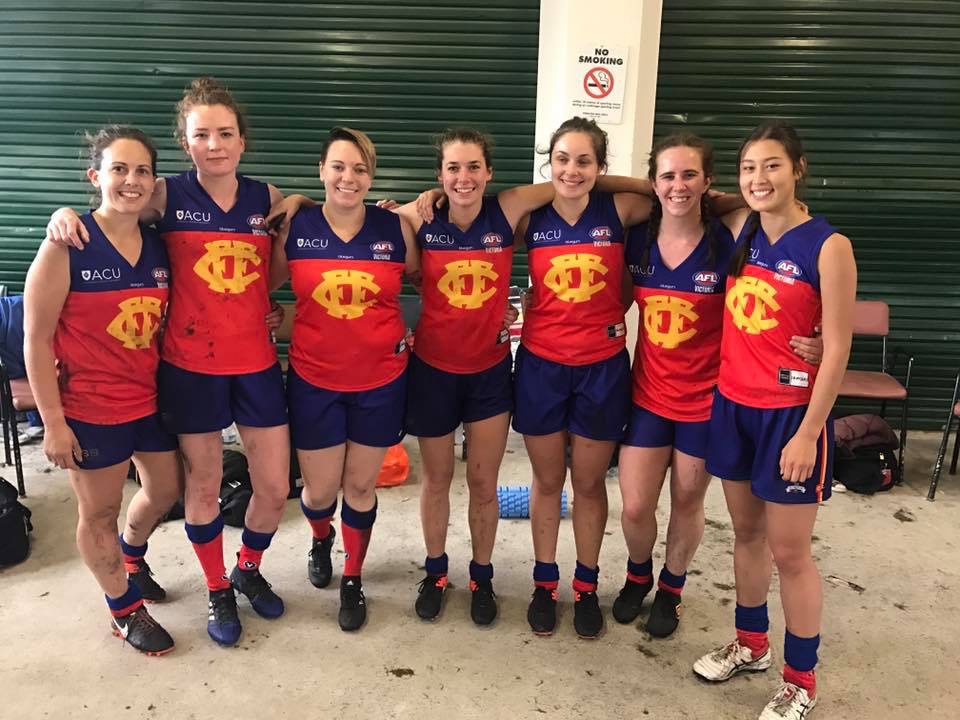 Fitzroy-ACU Women 2 also had a win in their first grading game, defeating Brunswick Renegades in a dour goalless struggle, getting the points 0.0.3 to 0.0.2.
Womens 2 player, Georgie Steggall, who was awarded best on ground, said it was exciting and enjoyable to be part of the first round of footy in the new VAFA Women's league. We all had a sense that there was history to be made in the first round, and it contributed to our desire to win. This was spurred on by the fact that the Brunswick Renegades are our northside rivals.
We played with guts and determination to get over the Renegades in difficult conditions. Two girls went off with suspected broken noses (thankfully it looks like they are both ok) and yet we pulled together to get a well-deserved victory.
Pictured are the Fitzroy-ACU Women 2 debutantes - congratulations Roy Girls.