This weeks game against Old Scotch at Camberwell Sports Ground will mark 150 games for Tom Cheshire and 50 Fitzroy games for Al Green.


The two share a few similar qualities along with their quiet, determined style and their co-captain Rory Angiolella praised both of his team mates ahead of their milestone games.
Tom started with the club in the Under 19s in 2007, but he also played his junior footy with Fitzroy Juniors (starting in the Under 10s) and his neighbour and mate, Rory, says Tom loves Fitzroy as much as anyone can.
In my eyes Tom loves this club as much as anyone, he definitely gets that from his mother (Fitzroy President, Joan Eddy). He is always the first to put his hand up to help out in any way he can; one of the first people at training and one of the last to leave.
I think his greatest asset to the team is that he never stops trying, even when a game seems lost he will throw himself at the bottom of a pack or dive in front of harms way to protect a team mate. It comes back to how much he cares for the club and the people he plays with,Rory said.
The captain also thinks 2016 will be one of Toms most prominent seasons. The last few seasons he has worked on being a more consistent footballer, and along with a solid preseason I think he will really be one of the better players this season.
Tom is going to be at this club in some capacity for a long time to come. His passion and his love for the club is something I admire and he is one of my favourite people to play footy with. He loves the competition and always finds a way to make me laugh during a game.
Its people like him that make this club great,Rory said.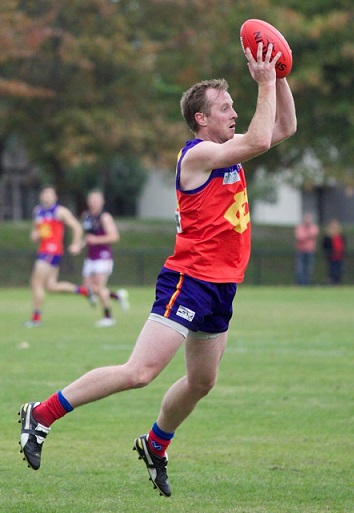 Al Green came to Fitzroy as a senior player in 2013, via the Alberton Football Netball League and has been an incredibly steady influence in the backline. He always inspires confidence with ball in hand.
Rory Angiolella says what makes Al a great team mate is his ability to always keep a level head. Under every situation he performs and acts the same; I think he really settles those around him, he carries himself with such confidence and you always know what you will get from him.
Als best position would be launching from half back because he reads the play so well, is a great mark and a really good user of the ball. I always feel confident when he is rebounding out of the backline./p>
And could there be much higher praise than a comparison with the captain of the Western Bulldogs?
I think he is the cool older head of the club, similar to a Bob Murphy. He never seems to lose his cool and always gives his best. Its so reassuring knowing he is in the backline because he rarely gets beaten in a one on one and always helps out his other defenders. He is not only one of our best defenders, I think he is one of the more important players in the team. He probably doesnt see himself as a leader but in my eyes he is everything a leader should be; he cares, he puts in hard work, has a really good footy brain, and always summarises a situation really well.
I guess the supporters love him for the same reason the players do, he is honest, caring and really good at footy. How could anyone dislike him?/p>
Rory said Als secret talent is for music and that one of his big ambitions is to headline a country and western night at the club! Wed love to see that, Al.
Fitzroy will go into the game against Old Scotch with a big challenge ahead, having started the season 0-3 there is a lot of work to do.
Co-coach Michael Pickering will take the lead role this weekend, with Old Scotch also coming off a short break, following their game on Anzac Day.