Each year Fitzroy Football Club presents two champions jumpers to outstanding young players from the Fitzroy Junior Football Club who are passionate about playing footy and wish to go on playing at senior level. The 2017 recipients were Phoebe Turnbull and Liam OConnor and they are certainly making their mark in their first year with the senior club. Not only that, but they wouldnt hesitate in recommending other FJFC players follow their lead.
The club spoke to them about their experiences in the first year with the club and got some great insights into these top-class teammates.
Phoebe Turnbull (aka Malcolm)
Phoebe is part of the Fitzroy-ACU Reserves team which is headed for finals for the first time in its short three-year history. Its an exciting time to be a Roy Girl with the Ressies.
I only started playing last year, at 17, for the Youth Girls after a friend dragged me along to play a practice game with them. I registered later that night and loved every part of my first season.
However, Ive been around the Fitzroy Football Club since I was about 8 years old watching my older brother play.
I was really nervous about the transition from juniors to seniors, just with having to get to know a whole new team of girls, and getting used to a harder competition. But from the first pre-season training I went to everyone has been beyond friendly and helped all of us new players fit right in.
Everyone just gets around each other, which made it all so easy to feel welcomed. The skills Ive picked up this year and my move into the back line has also made the transition more than comfortable. The most rewarding part about this year so far is definitely the feeling of each win weve all achieved and getting to know this group of great girls and coaches. The hardest part is unfortunately getting stuck with the nickname Malcolm thanks to my last name, Turnbull.
Im definitely one of the youngest on the team, but luckily I joined with Ella DCruz and Victoria Raptis, who I played with last year, as well as Emily Drew who played juniors just before me. Being one the youngest comes with some benefits though, I think the other girls take it pretty easy on us with the fine tin.
For the rest of the season Im going to keep working on my defence and ball skills, and just focus on getting to finals. I think we have a good shot at making it to the grand final if we keep playing with the same intensity we have been lately.
I would 100 per cent encourage the other FJFC player to graduate to the senior club so they can all experience the community and fun times Ive got to this year. Its such a great team to be a part of so hopefully Ill be seeing some familiar faces next year,Phoebe said.
Reserves Captain Rachael Telfer has nothing but praise for Malcolmsaying shes slotted into the team very well, helped by her great, dry sense of humour.
On field shes really reliable. Not only is she a solid backline player but shes proved really versatile for us, also spending time in the ruck./p>
Phoebe graduated from Princes Hill Secondary Collage last year and is taking a gap year before going to RMIT to study Biomedicine.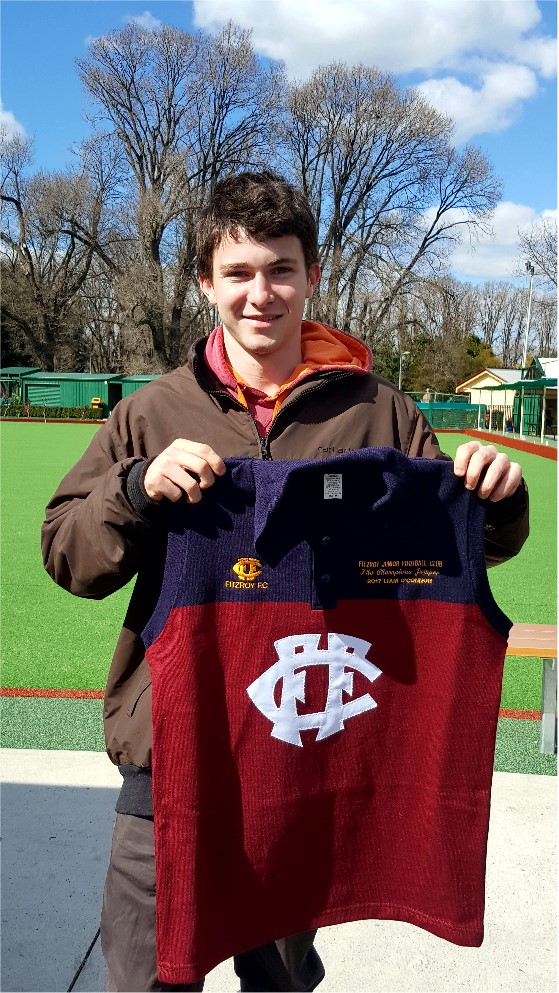 Liam OConnor
Liam OConnor, who is currently finishing his VCE at Northcote High, has likewise made a strong transition to Fitzroys Under 19 side, which started the season slowly but is now showing great potential. He has already lived every footballers dream by kicking the goal after the siren in Round 9 to help Fitzroy defeat Uni Blacks.
Liam played with FJFC from the age of 8, when he was in the Under 10s, right through to top age Colts with a premiership in his first Coltsyear.
My transition has been very easy. Knowing a lot of your teammates before actually playing with them definitely helped,Liam said.
He said Under 19 Coach Greg Colemans enthusiasm about the culture is very important as is the relationship he already had with assistant coach Dave Wright. We we're around the same cricket club, so the fact that I had already established relationships made it easy to transition
The most rewarding thing about switching to senior footy is getting experience footy with a whole new bunch of people. Through my junior years a mainly played with the same group of boys; some have stuck around but most of the players in the team I have never played with before this season. The hardest transition was pre-season, mainly because I had a shocking one I definitely need a big step up next year
Our commitment was always there from the first game. Its obvious a new team has to click on the football field and work together and this can take time as we've seen this season. It really comes down to good skills and decision making which is worked on at training.
With the start we had its obviously a tough task to make the four but as long as its mathematically possible, there will be no relent in the hunt for finals!
Winning the champions jumper was a fantastic honour and one I didn't see coming. It meant a huge deal to me especially as it was presented to me by my long term junior coach and friend Robbie McKenzie.
I will always advocate for junior players to come to the senior club. Fitzroy plays great football in quality competitions but it's also full of warm welcoming people who arent just about the footy. I know a lot of junior players go elsewhere and the fact that are continuing to play footy is great. Fitzroy just one of the best places to do it at,Liam said.
Coach Greg Coleman says Liam is your classic Jekyll and Hyde. Easy-going, good-humoured, even a little quiet off field… but an absolute beast on field. Hes vocal, intense, hard-at-it.
He can play inside where he burrows in, wins the hard ball and dishes out to the outside runners. But hes also fast enough himself to be an outside line-breaker. I had no hesitation in placing him right in the thick it as one of our core on ball brigade. He is just as reliable down back saving goals with run-down tackles or up forward winning games with after-the-siren goals.
I love his tendency to fly the Fitzroy flag if one of his team mates has received a little rough treatment,Greg said.
Sounds like someone wed all want on our team!