Fitzroy has moved to extend the contract of senior mens coach Luke Mahoney ahead of the finals, after an outstanding first season with Fitzroy.
As Fitzroy heads into a top-of-the-table clash with Williamstown CYMS this weekend and its first Senior finals series since 2012*, Luke has agreed to terms with the Fitzroy Board for a two-year extension.
President Joan Eddy said the Board was delighted to announce the re-appointment and create a sense of certainty before the finals.
Luke has secured some very good results in Premier C but our decision is based on much more than the on-field performances.
The impact Luke has made with our playing group and helping to build on the strong Fitzroy culture is what has really impressed the Board,Joan said.
We have a strong commitment to a one clubculture and Luke has worked hard with the other coaches to bring in a consistent game style, to ensure strong engagement between the players and the clubs supporters, volunteers and directors, to ensure the male and female players work to support each other where possible, and to help build on strong relationships with the junior club, which is important for our future.
His work with the younger and more experienced players, to bring out the best in people and develop the team ethos has been really strong and we wanted to ensure that, regardless of our final ladder position, we can continue to work together and take it further.
Clearly our aim is to head back into Premier B as soon as we can, but this decision is an indication that the partnership between Luke and the club is strong and working well for everyone./p>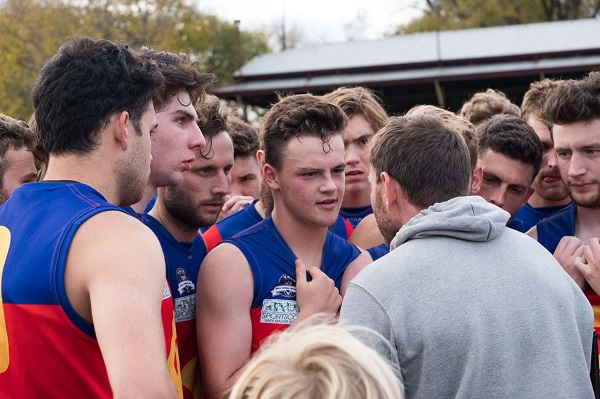 The coach himself said the decision to extend was an easy one.
It wasnt a hard decision for me because I am committed to taking the playing group as far as I can take them.
I have really enjoyed this year with the playing and coaching groups and my involvement with the people around the club. Fitzroy people have been very welcoming to me and my family and that means a lot.
Its certainly nice to have a vote of confidence from the board and the club even before we get to the finals… it feels like were on the right track,Luke said.
You always want to make sure you leave a club in a better place than when you arrived. You want to see constant development. There should be no ceiling for what we can achieve next year or the year after because we are playing a really good standard of football that I think would be competitive at a higher level and that is an exciting prospect.
We have a mixture of young and exciting talent mixed with a good senior group of players and all of them have been keen to learn and get the best out of themselves. They are very coachable and willing to develop and try new things, which makes our job rewarding.
The players are keen to be around the club and keep turning up even though they might not be assured of a game and thats always a great sign. It tells us that were building a positive culture and they are enjoying the vibe were creating… wining always helps of course!
Luke has also been blown away by the colour and commitment of the Fitzroy fans. The passion and loyalty of Fitzroy supporters is different from what you find in other amateur clubs. There are a lot people here just to support the footy club and thats just fantastic. It definitely lifts the side out on the ground, especially at Brunswick Street Oval and speaking to coaches and players from other clubs, they always find it incredible to come here and experience it./p>
Running into what will be Fitzroys first finals series since 2012, Luke wants to make sure his players really enjoy this period leading into finals, knowing such opportunities can be rare.
In a way they shouldnt feel the need to do anything different. Every week at training were reviewing our ball movement and structure and well keep doing that./p>
Luke says what he does want to see is each player thinking about how they can give themselves the best opportunity to play by concentrating on how they look after themselves between training sessions and games.
With his reappointment made before finals, Luke now has the benefit of being able to plan for the short and longer-term and set the side up for success, but he knows theres a lot of hard work to do and thats not just on the playing side.
Luke says we need to get a lot better at recruiting and networking and links those things to issues such as player welfare and employment something A grade clubs do very well.
We have a great brand at Fitzroy and we need to use it well to attract as many quality people and players as we can.
I believe our large group of loyal supporters can help us with their considerable networks and by getting more involved; I think that will be really important in helping us achieve our potential.
How can we get them more involved? Who do they know who might be able to help us with sponsorships, with employment opportunities for the players, with access to stats packages or things that make life easier for coaches or players, or even in securing more coaching and director talent? These are the conversations we need to have.
We also need to keep strengthening our relationship with the junior club so players coming up make the Fitzroy senior club their first choice./p>
But for the next five weeks the goal is pretty clear… a successful finalscampaign. Go Roys.
*The Fitzroy Reserves were in the finals in 2013.
Bernie set to return for 2019
With his team sitting comfortably atop the Premier C Reserve ladder, Bernie Carter has also agreed to terms with the club and will again coach the reserves mens side in 2019.
We will bring you more on this story in the coming weeks.