The Fitzroy-ACU Womens 2 team has played two games under the watchful eye and guiding hand of award-winning coach Jo Hogan, who brings with her a wide range of coaching experiences from track and field to the World Games.

Jo spent some time telling us a bit about her background along with her long-time love of the Roys - providing some excellent insights into her philosophies as Fitzroys newest and first female coach.
I grew up in the Mallee on a wheat and sheep farm near Quambatook in Northern Victoria. I come from a football family with my mothers cousin playing in the 50s for Melbourne and her uncle played for Essendon. My mother used to do the local match reports for our local paper and had a great love of the game. She was also a teacher and would say to me the best way to reinforce what you learn is to also teach it
My brother and I would spend hours playing on our full sized footy oval on the farm and next thing I knew, I was kicking the footy with the lads and sharing my knowledge with my school friends.
We did not have girlsteams back in my day and this was one way I could be unofficially involved in a game that I love.As a young girl, I found myself doing fitness training with the Quamby footballers, who were coached by the ex St Kilda player of the 60s, Jim Wallace,Jo said.
Track and field coaching was my background and from time to time I would put together some fitness programs for my young nephew Riley, who is currently playing in the VFL for Port Melbourne.It was not until I was exposed to Auskick at Fitzroy about four years ago that I did my level 1 AFL Coach accreditation. Id love to build up to a point where I can complete my Level 2 AFL one day./p>
Jo says the thing she loves about coaching is that it involves the art of observation, analysing, problem solving and empowering others to become the best version of themselves in sport and in life.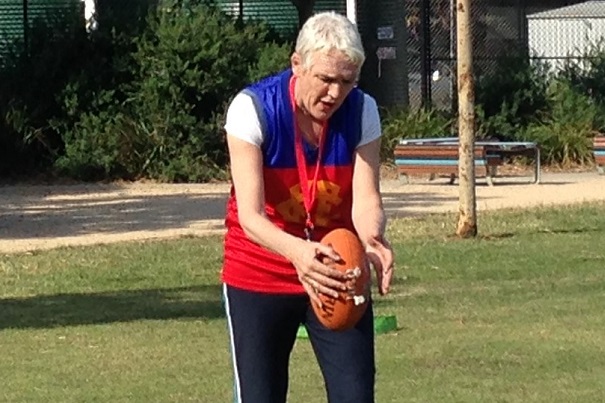 Coaching is like holding a mirror up to ourselves. Often the lessons and experiences that we learn from the footy field spill over to life. How we play our sport is often how we play the game of life. Its an opportunity to take risk, test who we see ourselves to be,Jo said.
Jos coaching experience is impressive and in 2014 she received an AFL Victoria Northern Region Award for her contribution to Football.
She has coached at Australian level at the Paralympics and World Games and explored sports coaching and development around the world. Jo set up the inaugural Paralympic Program at the Institute of Sport in Canberra along with the Elite Disabled Athlete Assessment programs for the WA Academy of Sport.
Jo has lived in and around the inner suburbs of Fitzroy and Collingwood for the past 12 years and has a good understanding of the history of the area. My brother, brother-in-law, niece and great niece are all die hard Roy supporters and they often remind me of the tears shed at Brunswick St Oval the day Fitzroy became Brisbane Bears.
I love the Roy history and believe in acknowledging it and showing it respect. BSO is one of the last historic grounds left in the inner suburbs and oozes community. I love being part of my local hood,she said.
Jos passion for coaching and encouraging women as coaches and players is palpable.
At the conclusion of my first year of coaching the boys in the pro group at Auskick, I noticed that there were no girls playing, so I mentioned to the boys to make sure that they invite their sisters and their friends down and come and have a kick in the following year. This was the start of establishing the girls group at Fitzroy Auskick.
I have a great commitment to community development and developing an authentic development pathway for girls in football at Fitzroy. Following on from the Auskick experience, we started up three girlsteams at the Fitzroy Junior Football Club and I coached the Under 12 girls for two years, reaching the prelim finals in our second year.
In 2015 I assisted John Marshall at training with the Fitzroy-ACU team, while I was coaching the Under 12 girls on the weekends. The young players loved seeing our new female senior role models train before them on a Thursday night at BSO.
When Fitzroy came on board in partnership with the ACU, in launching a female senior side, I saw it as a great opportunity to see the Fitzroy girls footy development pathway to link up across all levels of the Fitzroy clubs: Auskick, juniors and seniors,Jo said.
With the growing interest and numbers in womens football, the club approached me to come on board to coach with John. I was an automatic yes and I am most grateful to the club for the opportunity in 2016. Fitzroy has tremendous community spirit, history and takes on a whole of club approach
Jo never stops encouraging other women to get involved in football at all levels and to challenge themselves, whether as coach or player.
We are currently looking for women and girls to get involved in coaching at Fitzroy Auskick and if there is anyone interested in just having a go and having some fun then come have a chat with me. You would be well supported.
Jo says another important factor in encouraging women is having female role models and demonstrating that women are not invisible; they can be involved in the art and science of the game.
She says there are many role models at all levels at Fitzroy from the players to the Board, so there is a strong and growing support network. Younger girls can see what is possible in footy and that there are many different roles, including coaching. At the end of the day its creating a welcoming environment and extending an invitation to have a go.
As a coach, Jo teaches her players to be unrecognisable to themselves, back themselves in and be present to their team values. Being coachable is a key aspect in the development of players. This involves honest feedback and reinforcing confidence in the players, whilst they enjoy the game. Its not just about developing great footballers it is also about developing good people.
Its important that the players enjoy their footy, learn and refine their skills and knowledge of the game and feel part of a great local community and club: which we all do.
They (the Fitzroy-ACU squad) are a great group of women. I have every confidence that their approach and development will see an increase in their scoreboard result and their growth as young women.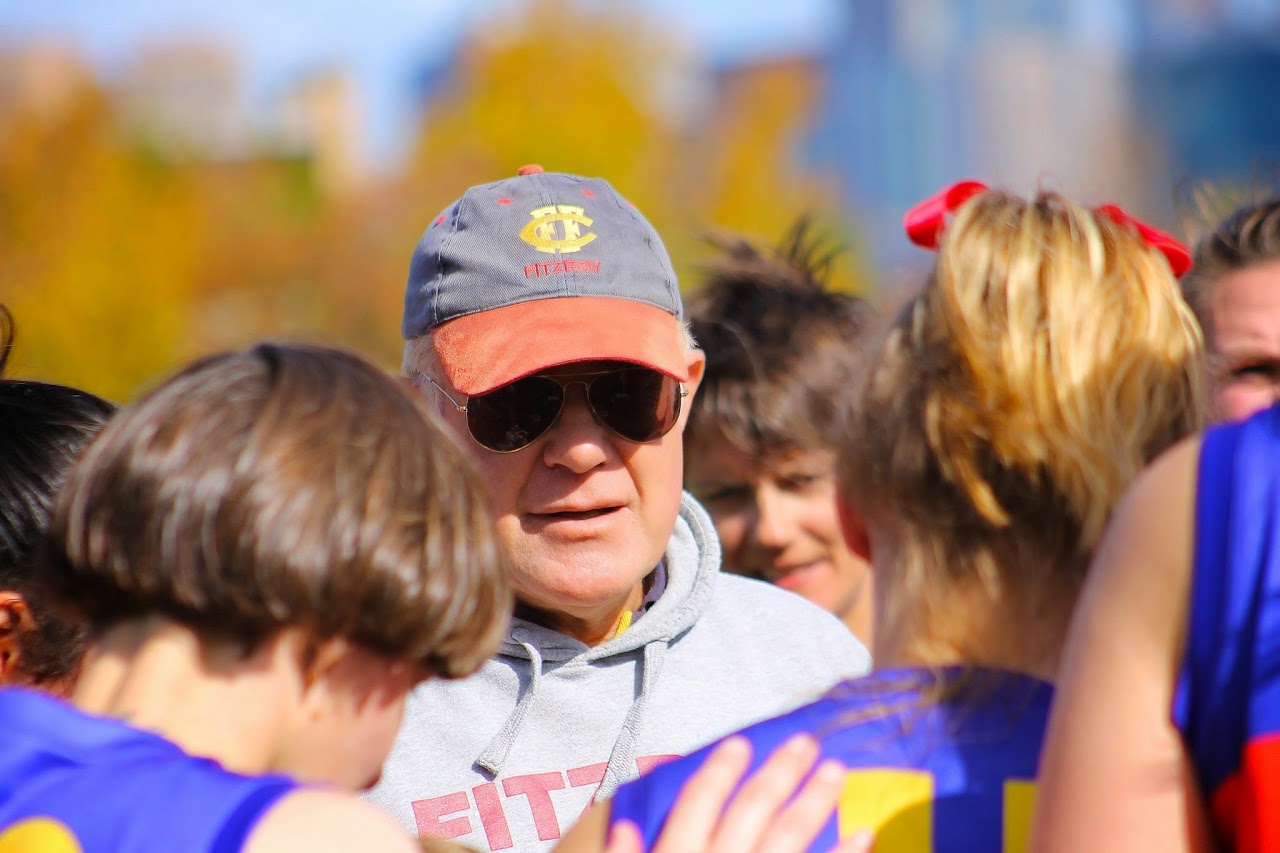 Jo has nothing but praise for the Fitzroy-ACU Womens coach John Marshall, who encouraged her involvement with FFC.
John and I complement each other in our overall approach and philosophy in coaching the womens squad. We bring our own unique skills to the task at hand and share a common vision for the development pathway and future opportunities for the squad over the coming years.
I enjoy Johns insights and our conversations about the game and I am grateful for the opportunity to work with him. He is a fine example of how males can champion women in football and sport in general.
All the coaches at the club have made me feel very welcomed and it was great to spend some time in the pre-season with them at the Portsea camp./p>