One is always front and centre, the first with a joke or to lighten the mood at training, while the other tends to go about her business quietly and diligently, but together they have formed an excellent on-field combination in the backline and hit the 50-game milestone together on Sunday.
Senior Roy Girls Luci Murphy and Claudia Bell have been at Fitzroy since day one of womens footy with the Fitzroy-ACU Senior side and would love nothing better than to keep the slim finals chances alive with an upset win over Melbourne Uni on Sunday.
Everything would need to go right for the Fitzroy-ACU team but while theres maths theres hope!
Regardless, there will be plenty of celebrations when these two run out for their 50th games and in the lead up, their teammates had a bit to say.
Perhaps freed by the knowledge their own milestones had already passed, Captain Gemma Minuz and teammate Liz Olney gave us few snippets about Claudia.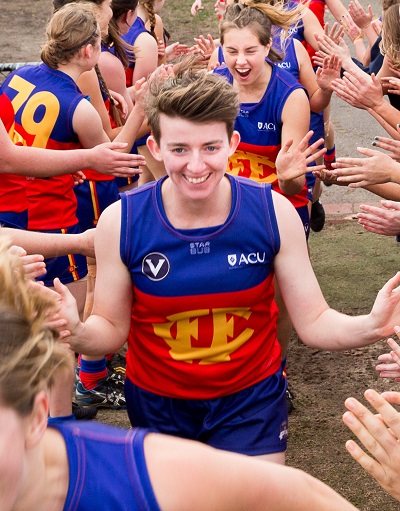 Her captain says according to unofficial records Claudia is the shortest full back ever to play the game. This fact makes her incredible goal stopping ability even more impressive. She is a fierce competitor and has been integral to the backline and the team since day one, regularly taking on three players by herself and winning (this is no exaggeration)./p>
The team rates her incredibly highly as a player and as a person, she is strong, humble and hardworking on and off the field,Gemma says.
No doubt these qualities are what caught the eye of VAFA selectors last year when Claudia was selected in the first Big V womens squad.
Liz Olney says her competitiveness is such that shell fight to take responsibility for all the kick ins.
Claudias teammates say she repeatedly saves goals which look all but certain; she defies expectations (and her opponents) and these legendary efforts were on display for those in the crowd at BSO last round.
A landscaper by day, Claudias willingness to turn up to training after a tough day outdoors and just get on with it has inspired others around her. Her secret is bananas. She attributes her amazing on field abilities to her pre-game banana, which she cannot go without, and Lauren Atkinson also attributes every great game she's played to Claudia, who regularly supplies her pre-game banana as well.
But as the saying goes, its the quiet ones you have to watch. Claudias dance moves may need some work after her efforts doing the worm at the Reds Ball last year resulted in a split lip which required stitches!
A member of the leadership group and always first with the pun, Luci Murphy has been sorely missed in the middle part of the season with a hamstring injury.
She was pretty thrilled to be back on deck at BSO last round and made a big difference.
Another of the Fitzroy-ACU tough nuts, Alice Batterton says Since day one of the Roy Girls Luce has always been such a reliable and integral team person on and off the field. You can always rely on her to bring some humour to the darkest coldest training session in the middle of winter, and she has always made the extra effort to make new players feel included. Youre a legend Luce./p>
Alice says Luci is a strong leader in the backline and very reliable in defence.
An ACU graduate in exercise health science (majoring in outdoor education), Luci spends her days in the outdoors helping kids at Merricks Lodge school camp and working at Collingwood Childrens Farm. She will be back at ACU soon to finish her Master of Teaching (in outdoor ed and physical education).
One person who would love to be out there with her on Sunday for her 50th game is travelling teammate Camille Augustin who sent her love and best wishes all the way from Mauritius:
Over the last four years, Luci has become an integral part of our Fitzroy family. She will never miss a game or an event and loves being involved wherever she can. She's an asset to our team and our club and I'm proud to call her my team mate and friend. Happy 50th Luce, you deserve it!/p>
Congratulations Luci and Claudia.
Both Fitzroy-ACU teams are in action on Sunday this week, so its an ideal time to take a look at their form. It will be a big day at Melbourne Uni, with a triple header. The Mugars games against Fitzroy-ACU Reserves (at 10am) a likely finals preview and Fitzroy-ACU Seniors (at 12pm) are the curtain raisers to the VFLW game between Melbourne Uni and Hawthorn. Get along for a terrific day of womens football.