Expect to see quite a new-look and youthful Fitzroy senior side when the season rolls around, with a number of new faces on the track and at the pre-season camp.
There were over 70 players at Portsea, with 34 women and a strong contingent of Under 19s graduates getting involved.
Senior Coach Nick Mitchell says one of the great benefits was some awesome team bondingand also noted that there are bigger numbers on the training track than at this time last year.
Nick said he was really pleased to welcome back Max Ellis (an elite backman) who returns after a year overseas, Nathan Jumeau, a former Fitzroy Under 19s player who is a good moving, half-forward/wing player and Mitch Bottomley, who is coming across from McLeod.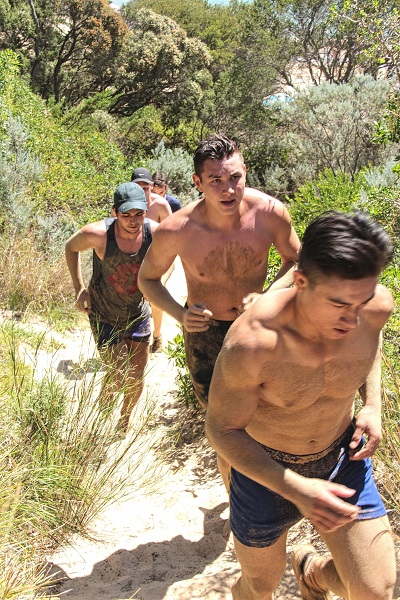 Nick is also looking forward to seeing what the Under 19 graduates can produce this season. Several young players, such as last years best and fairest winner Aiden Lambert, Will Symons, Isaac Wattis, Jacob Long and Aiden Burke, who all have senior games under their belt, are training strongly and expected to play a lot of senior football this year.
The other great news is the fitness of Will Pickering, who seems to have overcome persistent injury concerns and is working with Fitzroy sponsor, Das Pilates, to keep him on the track.
Nick has also welcomed a former OId Geelong colleague and most recently Barwon Heads player, Archie Whiting, who has been appointed as a line and development coach, bringing a strong footy brain, good communication and recent playing experience.
The development role is likely to be an important one as several of Fitzroys seasoned senior players will not (or are unlikely to) play this year through a combination of work and study commitments and travel. They include co-captain Daniel Bisetto, Tom Biscaro, Matt Brown, Al Green, Greg Hesse and Dom Pound-Palmieri.
Of the camp, Nick said it had delivered a spike in fitness as everyone had to work pretty hard and took on a range of physical and psychological challenges.
We also asked for a number of other perspectives on the camp.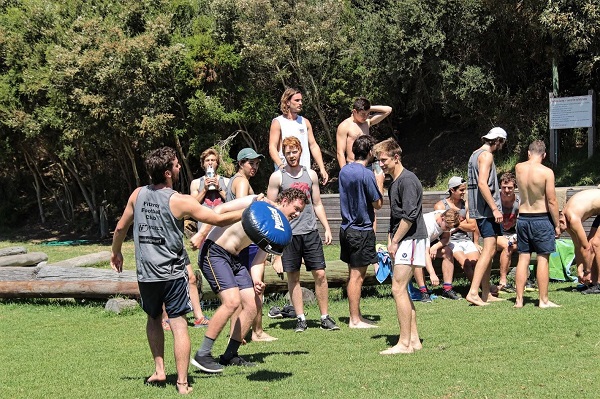 First timer to the camp and one of the large contingent of Under 19 players vying for senior selection, former Fitzroy junior Ben McDonald, gave us his thoughts on his first experience at Portsea.
"This was the first time that I had been able to go to the camp and I'm really glad I was able to go this year. The program was full of challenging drills and workouts which were also a lot of fun.
I wasn't so keen on being woken up for the 5km run on the Sunday though!
Thanks to Nick, Steve, Bernie, Phil and the Committee for giving us this opportunity./p>
Fitzroy President, Joan Eddy, who also attended for the weekend, echoed the views of the senior coach saying it was a great club and team bonding experience. Nick did a great job, with a strong presentation on game day strategy.
The Hurls House of Pain session (run by Fitness coach Steve Hurl) was a real tester and the players loved it; it was pretty amusing for the spectators!/p>
Joan also mentioned the volunteers and thanked Kerry Winchester, Mandy Hudson and Phyllis Quealy, who attended to prepare the meals and make sure everything ran smoothly.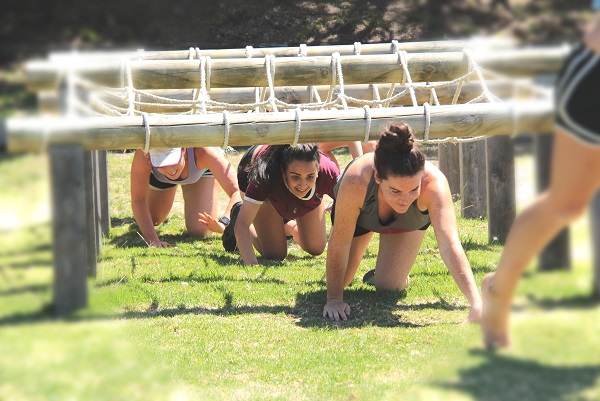 Fitzroy-ACUs Georgie Steggall said the womens team are hungry for respect and their performance at the pre-season camp proves it.
Coach Jo Hogan made it clear that camp was the line in the sand moment; that it was time for the girls to commit to the team and to work hard in order to bring Fitzroy-ACU to the grand final again in 2017.
We wanted to stand up and be counted against the boysteams. With this in mind the girls hit the track for a mid-morning skills sessions. Kicking drills dominated the session, the girls working hard on hitting targets on a lead as well as perfecting their stationary kicking technique. This was followed by a tackling session in the sand, led by team captain Alexa Madden.
In the afternoon the girls were faced with their biggest challenge yet in the form of an obstacle course, designed to challenge them mentally and physically. Divided into two teams we set off with enthusiasm. During the gruelling experience the girls made sure to work as a team, with no individual outperforming the whole.
On the 10th and final lap of the obstacle course the two womensteams combined to finish off the course as one. Despite the physically exhausting experience the girls summoned enough energy to finish off with a big cheer and a group dance,Georgie said.
All the photos from the pre-season camp at Portsea are now up on our club Gallery thanks to Phyllis Quealy. You can see them here.