The air was thick with a cloying humidity and, slowly, an ominous darkness descended. Then, as the Roy Girls ran on to the ground to the cheers of the Thirdsguard of honour, the skies opened and the rain sleeted sideways and with force across the Ramsden Street Oval.
But for all intents and purposes, the senior Roy Girls took on Brunswick in their final preseason practice game as if playing on the finest of fine spring days.
The Roys were winning in virtually all positions and as she broke the lines, picked up the ball, fended off a few opponents, straightened up and slotted it from 40 out, Ruby McDermott drew the attention of the crowd. Then backed it up minutes later when her deft handpass from the bottom of the pack resulted in another goal.
Not bad for a girl you might say (if you were ill-advised and uninformed). But apparently, thats what the reaction from the cheap seats has been throughout Rubys impressive football career.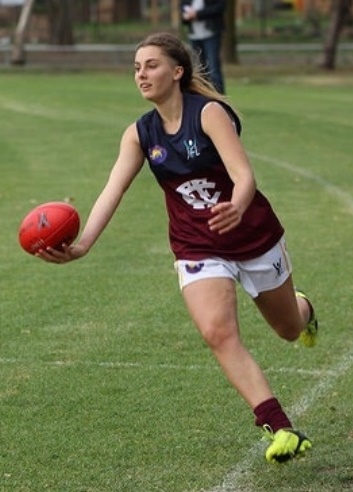 When Ruby was little and played during half time at the G, the cynic in me would think 'make the most of it because this is the only time youll get to play on this hallowed turfsays Ruby's mum, Justine Sless.
Now the landscapes so different and its great to see that there are pathways for young girls and women, even though theres still a way to go with parity of pay and profile./p>
Starting in Auskick, Ruby is now lining up not only as a Roy Girl in the seniors, but training with the Western Bulldogs VFL squad.
I first played under 10s with the Bullants and was one of two girls who played,says Ruby. But after two years I quit to play basketball, volleyball and soccer as there wasn't another AFL team to go to./p>
Coming to Fitzroy from the Juniors where she played for three years, Ruby thinks the recognition and opportunity for women can only grow.
Being a footy player is so much more than just being an athlete, its a personal dream come true and an avenue to inspire young girls like me to show the AFL and the world what women can do when they decide to go against stereotypes./p>
While Ruby's 13 year-old sister Jessica also plays for Fitzroy (in the Juniors), mother Justines contribution to the wider world of footy is restricted to showing the world how best to cut up oranges.
Check it out at: https://www.youtube.com/watch?v=wfy-XnUG1VI
Ruby joins team mates Sarah King, who is trying out with Collingwood and Hanna Fosbrooke, who is trying out with Williamstown. Meanwhile Hillary Grubb, Alexa Madden and Tori Tonin have already been signed by VFL clubs Hillary with Collingwood, Alexa with Essendon and Tori with Richmond.