One of Australias leading sports presenters, Angela Pippos, will be the star of our third annual Women in Football lunch on Saturday 22 July at Brunswick Street Oval.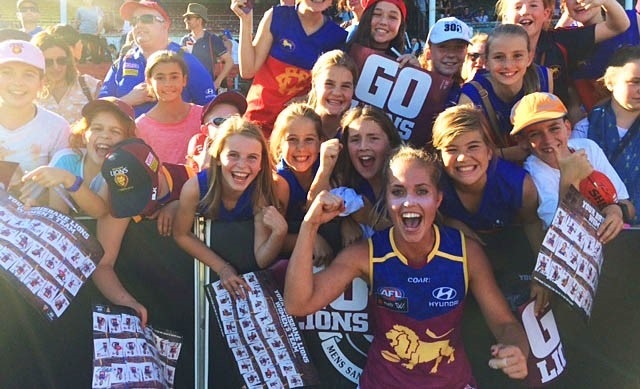 Brisbane LionsAFLW star, Kaitlyn Ashmore (pictured with junior Roys and others), will also join the fun and headline the female players attending on the day, including some of our own Fitzroy-ACU leading women.
Pippos is a journalist, TV presenter, radio personality, author and MC, and of course an Adelaide Crows fan! Shes appeared on many sports programs including Network Tens Before the Game and The Back Page on Fox Sports and is a regular on ABC radio and TV.
Angela has just released her second book, Breaking The Mould Taking A Hammer To Sexism In Sport and the television documentary she wrote, produced and presented about the rise of women in Australian Rules football, League of Her Own, aired on the Seven Network in February 2017.
Fitzroy has featured great women in the football industry for the last few years at our Women in Footy lunches, including Katie Brennan, Lauren Arnell, Jane Lange (former Darebin Falcons Coach and now Carlton AFLW Assistant Coach), Steph Chiocci and more.
This is a great opportunity to hear Angelas thoughts on what has been an incredibly successful year for women in football and maybe a little of what she thinks might happen next and what still needs to change.
There will also be an opportunity to hear from Kaitlyn Ashmore about her experiences in the first season of AFLW and how it felt to play in the first AFLW Grand Final.
Angelas book, Breaking the Mould, taking a hammer to sexism in sport, is selling like wildfire and you can get your copy here: http://affirmpress.com.au/publishing/breaking-the-mould/
Perhaps you could bring it along to lunch and get an autograph on your copy.
Book now for the lunch now as tickets are likely to be very popular:
https://fitzroyfc.worldsecuresystems.com/BookingRetrieve.aspx?ID=73903  

Bookings will close on Wednesday 19 July or as soon as they sell out.