Both of Fitzroys senior coaches were pretty happy with what they saw at Victoria Park on Sunday as the teams played their first practice matches of 2018.
The mens senior squad played in two squads over six quarters against Division 1 side, Therry Penola, and Fitzroys senior coach Luke Mahoney said it was good to test out new set ups in real playing conditions.
I was pretty happy with the implementation of what wed been training and with the way we moved the ball,Luke said.
The other positive buzz around the ground was the combination of young talent stepping up another notch and the return of a number of classy players.
Toby Hudson, Tom Biscaro, Matt Kyrousis and Michael Cussen make a welcome return from various travel adventures, whilst a raft of new players have been training with the club, including Josh Robson (from Darley in the Ballarat League), Seamus Bromley, Sam Bowers (from Rutherglen), Tom ODonnell (from Ivanhoe via Sydney) and Glen Burns (from WA). The coach says if you add to the mix the younger Roy boys; Bernie Wright, Nathan Ligris, Max Davie, Martin Deasey and James Graham, who have all had strong pre-seasons, the squad is looking in pretty good shape.
Last years revelation, Nino Lazzaro, has been training with Essendons VFL squad, and did not miss a beat when he ran onto the park on Sunday, kicking a goal within about the first 30 seconds. Well soon find out if well get to see him at any stage this year at BSO or whether his great talents will be on display in the more senior competition. Good luck Nino!
One of the other players who stood out in the earlier Reserves hit out, was 2016 Best and Fairest winner, Aidan Lambert, who turned on the after burners a few times kicking and setting up goals. Hes definitely an excitement machine.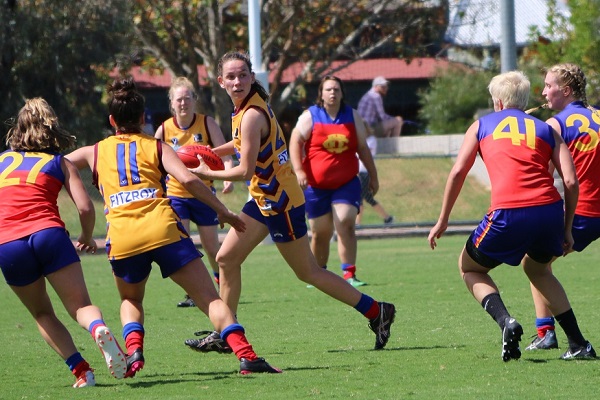 The all-Fitzroy-ACU womens intra club game was an opportunity to see the full womens squad play under the watchful eye of Womens 1 coach, Mike Symons and Womens 2 coach, Simon Jackson. Although scores werent officially kept, it would seem the red teamtook the points and first up bragging rights for Jacko.
After the game Mick Symons said he was pleased to see the improvement in the standard and thrilled with the numbers at training and available for Round 1. A number of players have been training with VFL squads, so it is hard to say whether there may be some losses of the top line players. The Red Roy will bring more details on some of the new players before the season starts.
Both coaches said the pre-season camp at Portsea was a great team building experience with a focus on conditioning, team work and game plans, with almost 100 players participating in mixed groups. If you havent had a chance, check out the photos from the pre-season camp.
There are two more opportunities to test game plans, combinations and structures before Easter and then the season start on 7 April.
Next week Fitzroys teams will travel to Garfield to take on Caufield and the following week we will be in the City of Yarra (grounds to be finalised) taking on Marcellin. Keep an eye on Facebook for more details.
Practice Match 2 - Sunday 18 March
All squads vs Caufield Grammarians
Garfield grounds details TBC
Practice Match 3 - Saturday 24 March
All squads vs Marcellin
At home but grounds and times TBC
Followed by the season launch at the Fitzroy Victoria Bowling Club.