We might be crying because shes in Argentina, but there was very little surprise when the unstoppable Tash Ross-Harris, who won the inaugural best and fairest for the whole competition, took out the Elaine Findlay Perpetual Trophy for Fitzroys best and fairest at Fizroy's Redlow.
There is not a lot more that can be said about Rosso that wasnt said when she won the top prize at the Inaugural VAFA William Buck Premier Womens Best and Fairest, having been awarded best on ground in seven of the first 10 games of the season.
However Fitzroy-ACU full forward, Liz Olney (pictured right), who accepted the award on Tashs behalf, said "not only was Rosso clearly our most dominant player, but she is probably the most humbling person I know.
"I think she simply played footy because she loved being around the environment Fitzroy has created and didnt seem to entertain the fact that she could make it in the AFLW! She never gave up in a contest and Im pretty sure she played injured half the time! She was engaging on and off the field and was definitely the life of the party at any social events.
Liz said "there is a Rosso sized hole missing from Fitzroy and nothing can replace that until she returns. In terms of replacing her as a ruck, we need to do some recruiting!"
The runner up was Erin Gogerly, who also had a terrific season for Fitzroy-ACU.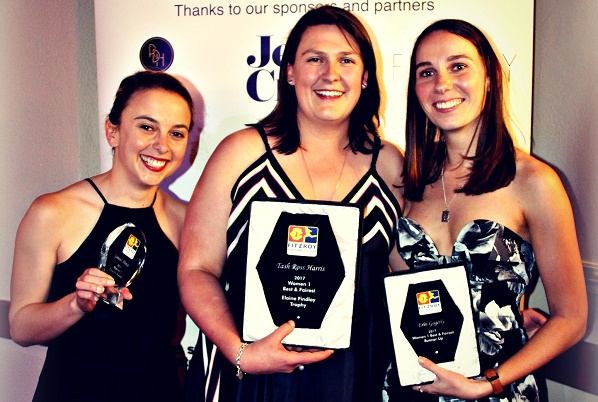 The coachs award went to Captain, Gemma Minuz, not just for her role on field but also for her work around the club. As if to highlight that point, Gemma had earlier made a speech as captain of the club and encouraged the supporters and players to get around the Womens 2 team in season 2018 as they often struggled for volunteers during the season just gone.
Its two from two for Fitzroy-ACU Womens 2 captain Mish Booth, who claimed her second Janet Graham Perpetual Trophy; cant do better than that. Congrats Mish on another great season. The Runner-up in Womens 2 was Rebecca Petrie.
The Womens 2 Coachs award went to Frankie Freeman, who also expanded her own coaching knowledge this year coaching a team with the Fitzroy Junior Club.