In their first ever final the Fitzroy-ACU Womens 1 team has won its sudden death semi in emphatic style, beating the SKOB Saints for the first time this year, 7.6.48 to 2.3.15.
In front of a large crowd at Bill Lawry Oval in Northcote, the Roy Girls got off to a fast start through Liz Olney, who was outstanding at full forward, and the team grew in confidence as the game went on.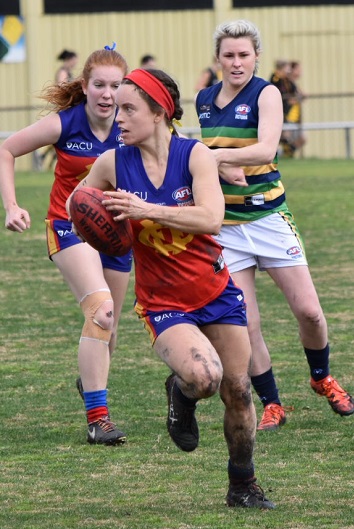 In the so called Premiership quarter, the Fitzroy-ACU team turned up the heat and put the SKOB Saints under enormous pressure, keeping them scoreless while adding 2 more goals to take a handy lead into the final term 5.5.35 to 1.3.9.
An injury-hit SKOB team did their best to rally in the final quarter but the Roy Girls held firm and added two more goals. Jane Gibson, Tash Ross-Harris, Tilly Arthur, Ashleigh Riddell, Liz Olney and Hannah Coffey were outstanding, but as with all good finals wins, it resulted from a very even team performance. Olney and Arthur finished with three goals each.
As Coach John Marshall said after the game, the Roy Girls managed to find space all day, through hard running and persistence.
The win means they meet Ajax (who lost to Gippsland) in the Preliminary final next Sunday 14 August, also at Bill Lawry Oval in Northcote, starting at 2pm.
Please note that for all finals there is an entry fee. For this game the fee is $5 for adults, no concession, and children under 14 free. Also no dogs or alcohol are allowed to be brought into the ground.
The winner of Sundays game will go into the Grand Final against Gippsland.
Photos by Lauren Field.