The AFL's most successful club - Fitzroy.
19-Jan-2015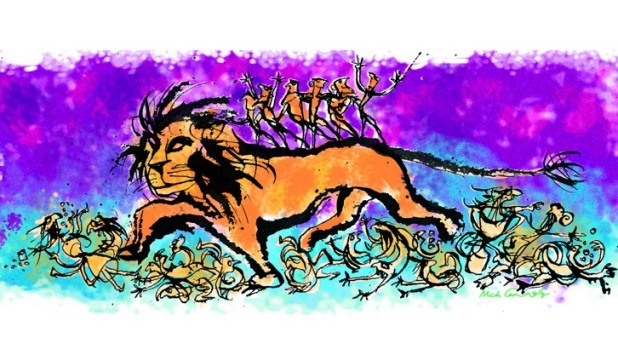 Old Fitzroy didn't have a home - it flipped from one training and playing venue to another, forever seeking a lenient landlord. It was perennially in debt, struggling to pay players. Matt Rendell, who captained the Roys from 1985-87, recalled that he w
asn't paid for an entire season. "They asked me, 'Can we pay you in June next year?'," said Rendell, who accepted the club's indecent proposal.

Fitzroy had nothing. The club eventually folded - or was folded into Brisbane, depending on your viewpoint. Yet, the players of Rendell's era - essentially, the 1980s, inclusive of the early '90s - are exerting more influence on the AFL competition today than any other diaspora. Even Hawthorn, which won five flags over that stretch, hasn't spread its tentacles, in off-field terms, like the deceased club. And the absence of a premiership - and, indeed, of an actual club - has not prevented the Roys of the '80s and '90s from maintaining a special, lasting bond.

On the weekend of the Victoria Derby, about 10 Royboys from that period congregated at the beach home of teammate Jimmy Wynd in Blairgowrie, in what is an annual, informal gathering of ex-Fitzroy players. Ross Lyon, who retains strong bonds with a number of teammates, was joined by Rendell, the poetic Tim Pekin, Michael "Butch" Gale (brother of Richmond's CEO, Brendon), Jason Baldwin, Duane Rowe, David Strooper, Wynd and Brett "Moose" Stephens, the '80s and '90s defender best known for his stint as fitness adviser to tennis legend Pete Sampras.

Consider the impact of the Fitzroy boys on the game. Lyon and his mate Paul Roos are big time coaches. Ken Hinkley - who really made his name at Geelong - started with Rossy and Roosy at Fitzroy in the mid '80s. The club has also spawned three contemporary club chief executives - Gary Pert (Collingwood), Keith Thomas (Port Adelaide) and Carl Dilena (North). Michael Nettlefold (former CEO of St Kilda) technically qualifies though he was really reared in the madness of Moorabbin.

Rendell is an ex-assistant coach and prominent recruiter, discarded by Adelaide and ensconced at Collingwood. Scott Clayton (Gold Coast) is likewise a leader in the recruiting/list management trade. John Blakey - who became a dual premiership player and 350-gamer at North, is a senior assistant coach at Sydney, while Fitzroy's foremost '80s cult figure, the muscular Mick Conlan, is the chief executive of AFL Queensland, after a successful stint as a Nike executive. Alastair Lynch, who famously took up a 10-year deal to leave Fitzroy, is a prominent Foxtel commentator, one-time player manager and heads up a business aimed at helping men's health.

Leon Harris heads up country division of development for the AFL, David Noble is head of football for the Adelaide Crows, Matthew Armstrong is the high performance manager of AFL Tasmania. Alan McConnell, (who didn't play but was twice a caretaker coach of the dying Roys), is an assistant coach at Greater Western Sydney. Note that the Fitzroy alumni cover all the football bases - coaching, administration, recruiting/list management and development. Their reach also extends far beyond football. Jamie Cooper, for instance, has been a successful artist (and does football portraits exceedingly well).

Fitzroy's class of the '80s and early '90s did not taste what the football cliche classifies as "the ultimate success". The notion that ultimate success for players is only measured in premierships seems ridiculous, given what these individuals accomplished after the (very small) crowds stopped cheering.

West Coast won a premiership in 2006, but which reunion would have the happier vibe - the relevant Roys, or the 2006 Eagles? Life has been harsh on a handful of West Coast players, who've endured drug problems and skirmishes, if not shirt-fronts, with the law. In the same month that the Fitzroy boys gathered in Blairgowrie, Daniel Kerr - an outstanding player so instrumental in that flag - was released on bail on a serious charge. Kerr allegedly poured a flammable liquid into a house, threatening to light it while two people were inside.

Thus, the fallen Eagles' plot line was no longer centred largely on Ben Cousins, since Daniel Chick (importing steroids), Adam Hunter (drug possession), Chad Fletcher (drug possession) and now Kerr have all faced charges of one sort or another. The Eagles spent three years repairing their culture - to the detriment of their ladder position - and are a completely different organisation today. 

Collingwood's issues with player behaviour, substances and "culture" were less dramatic than West Coast's, but it has been acknowledged within the Westpac Centre that the club also had a post-premiership problem that extended into 2012; interestingly, neither West Coast nor the Pies sustained success in the manner of Geelong and Hawthorn, each of whom had self-motivated player groups that merely smelt the roses, without inhaling too heavily.

Fitzroy's '80s players didn't have proper weights, much less altitude rooms, pools and theatres. Rendell reckons the hardship and "shit environment", relative to other clubs, compelled those players to become self-reliant. "It was born out adversity," he said. "You look after each other. You don't survive unless you look after each other."

The players were on the brink of being sent to Brisbane after 1986 (all but two voted to go before the club opted to stay) and were slated to merge with Footscray in 1989. "Every year, there was conjecture over where we were going."
Rendell compared his influential Fitzroy cohort to the similarly spartan North teams of that time that spawned Andrew Demetriou, Alastair Clarkson, John Longmire, Ben Buckley (ex-AFL commercial chief and Football Federation Australia boss), Mark Brayshaw and a number of successful people in business and football. "I reckon North were the same."

Fitzroy's players were "empowered", decades before the term became ubiquitous - which, coincidentally, was around the time Roos was coaching the ugly Swans of 2005-6. In part, Fitzroy's empowerment was of necessity - if you didn't do it yourself, it didn't happen. But Rendell and Scott Clayton credit their formative coach, the schoolteacher Robert Walls, for handing responsibility to his players.

"Robert Walls' legacy is huge," said Clayton. "He was 20 years [ahead] of his time. He empowered the group before we knew what empowerment was." Clayton also highlighted the influence of Ron Alexander, his first captain and the inaugural West Coast coach.

Clayton and Rendell concurred that '80s football manager Arthur Wilson's recruiting had been important, while Walls forged the culture of self-reliance. "Arthur Wilson recruited good people," said Clayton. David Parkin inherited Walls' team and took it to a preliminary final in '86; Parkin has often singled out that '86 Fitzroy group as the one that extracted the most from itself - including premiership teams - that he coached.

The 1987 team, which didn't make finals, adorns the wall of the Napier Hotel in Fitzroy, a small shrine for this fallen club. You cansee a spiky-haired Cooper sitting down next to a youthful Lyon, with Clayton and Pert grinning on each side of Roos. Rendell has a wry smile alongside Parkin, with whom he clashed; the unrecognisable clean-shaven fellow next to Doug Barwick (Collingwood premiership player to be) is Thomas, the man who has overseen, with Hinkley and David Koch, the revival of Port.

Where are they now? Everywhere.

When Clayton was asked how he viewed his time as a Fitzroy player, the response was swift. "Proudly."

Stranded at a club scant of resources, these self-starters have gone forth and spread strands of Fitzroy DNA across the competition, the game and other spheres. "It was our club," said Clayton. "That's the point."

Courtesy of Jake Niall - The Sunday Age

** Since the publication of this article, former Fitzroy Best and Fairest Ross Thornton was also elected onto the board of the Brisbane Lions. See story above.