Riding on the back of a stunning coaching record of four Colts premierships with different squads from different levels at the Fitzroy Junior Football Club (most recently bringing home the Colts 1, 2018 flag), Monty Stuart is known to many as the Colts Whisperer.
Having his own Under 19 career cut short due to injury, just five games in, may have been the best thing to have happened to new Fitzroy Under 19s coach Monty Stuart.
It has meant that the former junior halfback flank ball magnet has channelled his energies and love of football into a promising and already successful coaching career. And he has great empathy with his charges.
After seven years as head coach with the Fitzroy Juniors, the man with a remarkable track record in junior coaching is set to bring his considerable expertise to the Fitzroy Seniors and, in the process, strengthen the relationship between the two clubs.
Having coached the Fitzroy Junior Colts to the premiership in 2018, with three years as Under 19 assistant coach (to Tim Bell) and a variety of other coaching roles under his belt, Monty cant wait to get started.
Seeing the success the Club has had this year, I just wanted to get involved.
I have a strong relationship with a lot of the kids whove come from and are coming from the Juniors and that made me want to apply.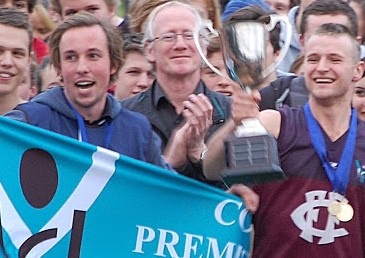 One of my strengths is building relationships with players and generating that buy in to the game plan and game style. I think I can really relate to these guys the 17 and 18-year olds who Ive been coaching for about 8 or 9 years now./p>
Monty says his style is to be approachable and have an open dialogue with people and that existing relationships with players and parents will assist with that. Im also looking forward to building on the relationship between the Junior and Senior clubs./p>
The new Under 19s coach will put an emphasis on the pre-season because of what hes seen as the great challenges for Colts players stepping up into senior footy. The length of the season and the physicality are the big differences.
Over the years Ive seen it take it out of the young fellas. It catches people out. So, its important we start early and put in the pre-season effort so we can be ready to compete.
Im also going to be really supportive of ensuring young guys get their opportunity and are ready for it, if they are called up to the senior side.
By having a similar but simplified game plan that will make that transition easier.
Monty says hes already sat down with Senior Coach Luke Mahoney to see how they can best work together.
I want to make sure the Under 19 players feel part of the wider club too, whether thats getting involved in the social functions or attending selection and Thursday night dinners.
Having been around the Fitzroy Football Club since I was 10 years old, Ive seen that it does really engage everyone in the area.
People wander down to BSO because they know they can see a game and grab great food from the barbeque and people want to be part of that.
People also give up their Saturday and pull on the Fitzroy jumper for a game and thats just very special./p>
Monty has a Bachelor of Arts in Psychology from the University of Melbourne and is just about to complete a Master of Sports Management at La Trobe University.
In addition to his Fitzroy Under 19 duties, Monty is coaching the Wesley College 2nd XVIII in the APS competition and is a squad coach with the under 15s and 16s at the Northern Knights.
More news on the other Fitzroy coaching positions is coming soon.