Fitzroys wins this season have been built on some excellent team defence, typified by a stingy backline who are keeping the opposition to an average of under 10 goals.
One of the men who has come back to Fitzroy after a two-year absence travelling overseas and slotted in like he never left, is Toby Hudson-Bevege and this week the beautifully balanced and ultra-competitive defender plays his 100th Fitzroy senior game.
One of his great mates the Bonnie to his Clyde Rory Angiolella reflected on what makes Toby such an outstanding team mate on and off field. Here are his serious (and not so serious) comments.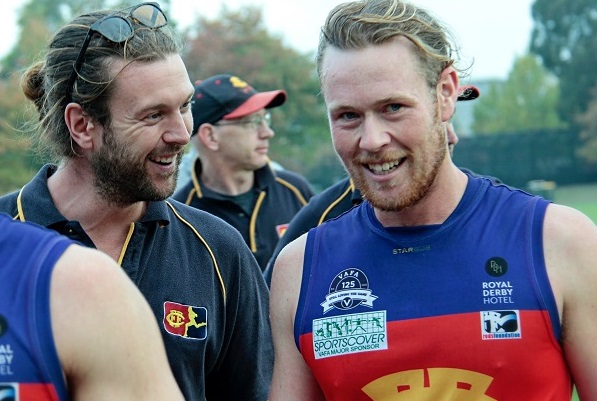 Toby plays his 100th Fitzroy game this Saturday.... when did you first start playing together? What have been the highlights of your playing days together?
Toby and I started playing together in my second year of under 19s and I dont think I played too many games with him that year because I played mostly seniors but I remember training with him, Dom Pound and Dylan Patcas. We really formed the start of our friendship off the field, and its continued to grow around football. Our friendship has had so many highlights outside of footy which is why I think we are so close now.
Its a huge thing playing 100 games and its great for him to have gone away and come back and make this milestone. Ill be a tad disappointed I wont be out there with him*, but very happy for him to achieve this milestone./p>
*(Rory is currently injured)
How did you feel when you heard Toby would be coming back this year? What special traits does he bring to the team? (on and off field)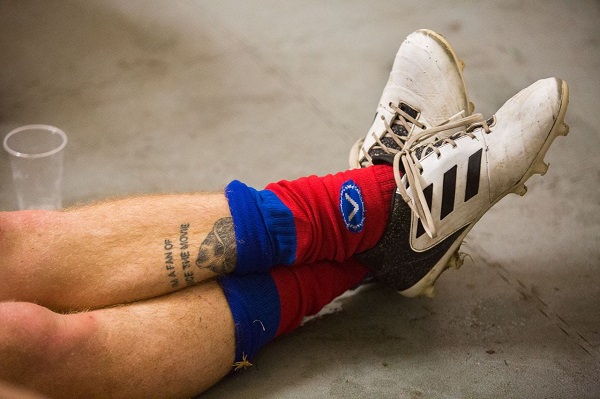 When I heard Toby was coming back this year I was pretty stoked; I was also a bit surprised. He was talking a big game about coming back to make Fitzroy great again and was telling me he was a shoe in for the best and fairest. When I questioned him about the league or team best and fairest he just shrugged his shoulders and said either would do..
Its this sort of quiet bravado that the wider community misses out on and I have great joy in exposing.
Toby brings pride to Fitzroy, he prides himself on not being beaten and plays a humble brand of footy, much like his house mate and mentor, Max Ellis. Off the field he likes to get around the young boys and has built quite a good relationship with them, both at the club and during late night Brunswick Street sessions, where he tends to lead by example./p>
After two years out of the game, have you been surprised at how well he's just picked up and fitted straight into that backline?
I was very surprised at how seamlessly he slotted straight back into the team. Its a credit to his talent but also to the amount of dedication he put in during preseason and he has a willingness to learn and improve, which is showing in his excellent start to the season./p>
What do you think inspired him to come back to Fitzroy?
I think Toby came back because he likes to be a part of a community and he likes to contribute to a team, and that shows in the relationships he is forming with the young guys and the strong football he is playing each week. I also think that he felt he has something to contribute to Fitzroy going back up to B grade and that probably drove his decision as well./p>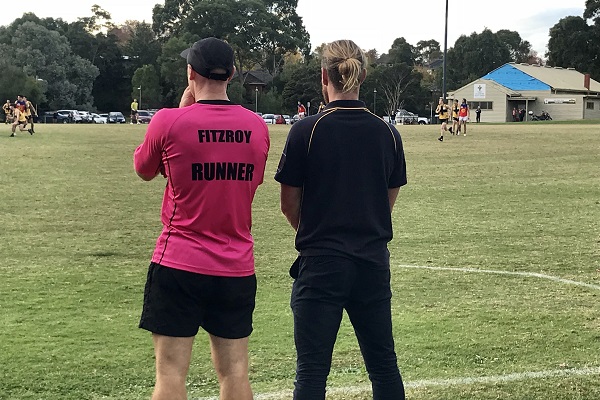 Some people describe your relationship as a bromance, how do you describe it?
I would describe our relationship as more of a Bonnie and Clyde type romance than a bromance.
Who has more tattoos?
Toby has more tattoos than me, but youd have to say that mine are probably better./p>
And just to finish on a typically stirring note, Rory had a message for his good friend:
All the best on your 100 games Toby, its been a pleasure watching you fail, and hopefully you have a couple of shockers we can laugh about after a good win at home./p>
We agree with that final bit! Congratulations Toby and heres to a good win to celebrate your 100 games.