Fitzroy has taken fourth spot in Premier B with a 3-goal win over bogey side Ajax on Saturday.
But there wont be much time to rest as Ajax, Monash and Mazenod (our next two opponents) are just one game behind.
This weekend Fitzroy will take part in a big day of history for Mazenod, as they celebrate FoundersDay, marking 50 years of Mazenod College.
They are expecting a big crowd at the College (not their usual ground) and the Nodders, in a special commemorative jumper, will be very keen to impress, so the pressure is on the Roys.
But they will relish the opportunity to back up the much awaited win over Ajax; the first in many years. As coach Nick Mitchell said after the win, the team will take great confidence from the way they ran out the final quarter, having given away an early lead. It was a tight and tense affair in front of a large crowd at Brunswick Street until Julian Turner and Aidan Lambert (best on ground) used their pace out wide and gave Fitzroy the extra run and class to get over the line.
Earlier in the game it was Nathan Ligris, Aiden Burke, high schooler Ted Clayton, Corbin Stevic, Jack Dalton and Owen Symington, who locked down on their opponents and came out winners more often than not. Nino Lazzaro again showed some signs of his skill and finesse close to goal and bounced through a ripper to open Fitzroys account.
Who better to do justice to the on-field action than the Footy Almanac scribes:
The Ressies will be looking for some answers this week against Mazenod having been on level pegging with Ajax at half time, only to watch as the visitors turned on a huge last quarter and put them to the sword. The Thirds suffered a 13 goal loss to Ajax at their home ground.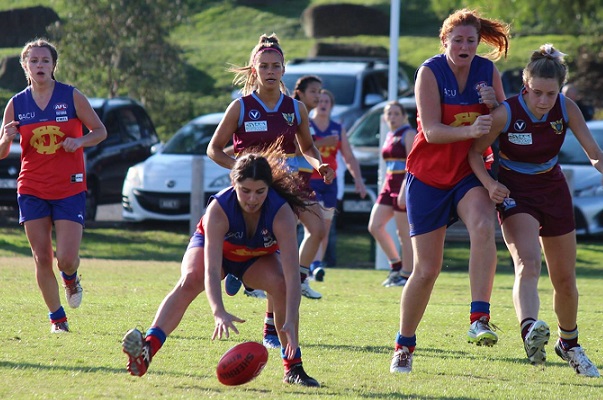 Its fourth place also for Fitzroy-ACU Women 1, which bounced back strongly after their first loss and took the points against Marcellin. This weekend they are looking forward to a tough clash when they play the University of Melbourne Mugars for the first time and its an early start at 9am on Sunday at Sportscover Arena.
Meanwhile a win must be just around the corner for Fitzroy-ACU Women 2. They came up against a very well-drilled South Melbourne Districts on Saturday and went down 7.13.55 to 0.1.1. This Saturday they will be at home to Bulleen Templestowe.
Pic 1: Aidan Lambert was everywhere in the final quarter on Saturday.
Pic 2: Alex Monacella first to the ball in the clash with Marcellin. Photo courtesy Tayla Whyte.