Fitzroy fullback Max Ellis joined some pretty elite company the likes of Fitzroy stars Allan Ruthven, Kevin Murray, Norm Brown and Garry Wilson when he took out his third Fitzroy best and fairest in as many years.
Max was awarded the Greg Roughsedge Perpetual Trophy for the senior mens best and fairest player at Fitzroys Redlow at the Regal Ballroom in Northcote on Friday night.
After he was presented with the trophy, Max said despite or perhaps because of the challenges of the season, 2019 was one of his favourite years of Fitzroy footy. We stuck in there and stayed up (in Premier B) and I cant wait to see what this young group does next,Max said.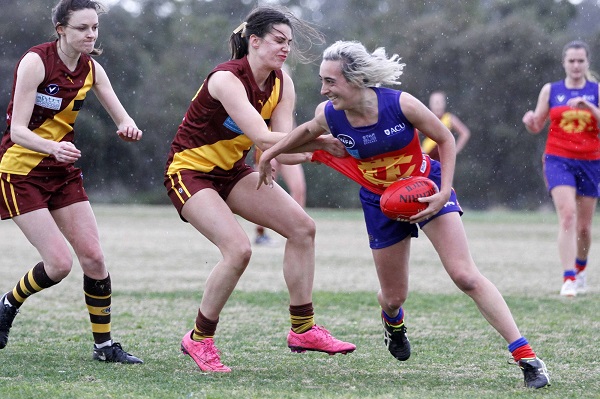 For the Fitzroy-ACU Senior Women, it was a first-time winner but really no surprise. Teresa (Razor) Zampaglione, who finished second in the VAFA Premier Womens best and fairest, took out the Elaine Findlay Perpetual Trophy for her breakout season. It was remarkable that with just seven games until an injury ended her season, Tash Ross-Harris was the runner up.
Dispensing with formality, Razor donned the Birkenstocks and socks for her acceptance speech and declared Fitzroy for life
There were a couple of firsts for the night. It was the first time the club has acknowledged a senior woman for goal kicking and full forward Liz Olney, who has been a Roy Girl since season one of womens footy with the club, has her name on the new Superboot trophy.
Reds Foundation best first year player in the senior men's squad was awarded to Harrison Grace for an oustanding first year, which got stronger as the season went on.

It was also a first, as the trophy for the best and fairest player in the new Under 23s team, was named after long-time and very successful Under 19s coach, Tim Bell. Tim was on hand as the trophy was awarded to Tom Robinson. Under 23s Captain Ezra Darby collected the trophy on Toms behalf as he is playing football overseas in Vietnam as he does at this time every year.
The Club person of the year was awarded to volunteer Steve Maniatakis, who became very emotional in his acceptance speech, declaring his love for the club.
The full list of awards for 2019:
Thirds
Best and Fairest winner: Tim Madden Perpetual Trophy is awarded to Bryce McAdam
Best and Fairest Runner Up Captain Tim De Natris
Coachs Award - James Talbot

Under 23s
Best and fairest winner, for the first time in the Under 23s, the inaugural Tim Bell Perpetual Trophy winner is Tom Robinson
Best and Fairest Runner Up - Harry Dorrat Thorpe
Coachs Award James Gosling
Under 19s
Best and Fairest winner - Stephen Drury Perpetual Trophy is awarded to Charlie Johnstone
Best and Fairest Runner Up - Jonathan Zapantis
Coachs Award Lewis Johnson
Fitzroy-ACU Womens Reserves
Best and Fairest winner - Janet Graham Perpetual Trophy is awarded to Emily Fitt


Best and Fairest Runner Up - Mia Sutherland
Coachs Award Pia Bertrand
Reserves Men
Best and Fairest winner - Marc Marsden Perpetual Trophy to Jake Stewart
Best and Fairest Runner Up - Glen Burns
Coachs Award Aaron Tatchell
Fitzroy-ACU Senior Women
Best and Fairest winner - Elaine Findlay Perpetual Trophy goes to Teresa Zampaglione
Best and Fairest Runner Up - Tash Ross Harris
Super Boot Award inaugural Senior Womens Leading Goal Kicker award Liz Olney
Senior Men
Best and Fairest winner - Greg Roughsedge Perpetual Trophy - Max Ellis


Best and Fairest Runner Up - Nathan Ligris


Reds Foundation Best First Year Player - Harrison Grace


Coachs Award Jack Hart


Marsden - Moriarty Superboot Trophy for the leading senior mens goal kicker Nathan Jumeau