Have you ever fancied getting involved with your local footy club, but you just didnt know how?
We might focus on the players, but they wouldnt get out there each week without a committed team of people off field who do everything from running the water, to managing the interchange, to ensuring the crowd knows the correct score.
Not everyone can kick a drop punt, but perhaps your strengths lie in detailed work like keeping the stats. Maybe you are keen to keep fit over winter and could take on a role as a boundary umpire or runner. Then again, perhaps youve always secretly wanted to wave the goal flags.
Were very keen to identify some volunteers for the game-day stats roles, so they can have a trial run during the practice matches. Please contact Sharon Torney as soon as possible if you have strong footy knowledge and good, fast data entry skills and youre interested in being involved.
With seven teams playing in the VAFA this year, Fitzroy is putting the call out for a wide range of on and off-field volunteer activities and we want you!
Some of the roles are for every week, whilst others only require a commitment for home games. Take a look at the attached volunteer role descriptions and see if it might be for you.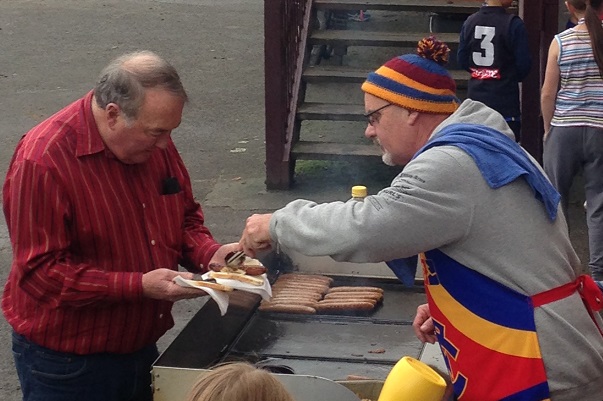 Postie by week day, Dave Barnes dons the white jacket and flags on a Saturday afternoon and makes sure we all know when the Fitzroy ressies have scored a goal. Then he takes up the tongs to help out with the famous Fitzroy BBQ.
I got involved because I was a Fitzroy supporter from birth. Dad barracked for them. I watched a couple of games in 2011 and then started going every week in 2012.
I turned up to watch the seconds one day and Sharon asked me if I could goal umpire; been doing it ever since. I love doing it and anything else I can to help out,Dave said.
I love the people and they made me feel welcome right from the first time I helped out. The boys are all such great young men. They make it easy to get involved. Same goes for the board and especially Kerry who I really enjoy helping with the BBQ and Auskick./p>
Fitzroy also has a raft of other club volunteer roles which include communication and social media updates, event organisation, merchandise sales, bar work and more.
We have a quick online form so you can register your details and area of interest and the club will be in touch: https://fitzroyfc.worldsecuresystems.com/volunteers
Go on, you know you want to get involved.