Lots of people reckon Lachie Henderson looks like an old-style player. Swap the red, yellow and blue with maroon and blue and you could be forgiven for thinking hes a latter-day Noel Jarvis.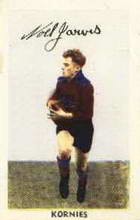 Like Hendo, Noel Jarvis (pictured) was tough, talented and tenacious. And like Hendo, he played on the wing or from half forward, the obvious difference being that Noels reign extended from the mid-40s to the mid-50s and he scored a premiership along the way. (But weve still got plenty of time to play out perhaps even this season before we know for sure whether thats a point of difference or an honour shared.)
Best mate Matthew Gaite reckons Hendos a pretty complete footballer either on the wing or at half forward.
He has an extraordinary read of the game which has always impressed me the most,says Gaiter. Gets to the right spots, always backs up giving his team the best opportunity.
He has a great kick both sides and one on one, and in the air hes neigh on impossible to beat. His knowledge of the game is also incredible, be it AFL stats, skills or gameplay./p>
Hendo and Gaiter met at uni about six years ago. Together with Joe Atkinson, they agreed to move to Fitzroy to play together in 2014. Before that Hendo played juniors and seniors at Lower Plenty.
So what do others reckon? Kerry Winchester thinks the firsts are always better when Hendos on the team. And Nathan Jameau reckons hes got some of the slickest hands hes seen on a football field.
We reckon that Hendos played 50 fabulous games and we wish him a long and successful career at Fitzroy.
Wed better leave the last word to Gaiter…
I reckon hes just a genuine ripper bloke who is awesome to have a beer and a laugh with and talk footy./p>
Pictured above, Noel Jarvis, a dashing and creative wingman who gave Fitzroy great service in 159 VFL games between 1944 and 1952, featured on the Kornies football card.