During the week the VAFA announced its rep squads for the trip to Adelaide in June to take on the Adelaide Football League.
Three of the Fitzroy-ACU Senior Women have been named in the large 78-woman squad after playing under the watchful eye of VAFA Womens competition supremo, Shona McInnes on the weekend in the game against Old Trinity.
Erin Gogerly, who his having an outstanding season Lucy Kerr and Hilary Collett have all been selected in the squad and will now commence training before finding out if they make the final cut.

Two in row for the Roy Girls
After a tough start its been a great couple of weeks for the Fitzroy-ACU Senior womens side and it was all smiles as they evened the ledger.
In a tight contest against Old Trinity at Ramsden Street last Saturday, Fitzroy-ACU managed to hold a narrow lead for the whole game and had just enough poise and defensive muscle to hold out Trinity as they came home strongly. Fitzroy-ACU won 7.8.50 to 4.12.36.
This puts the team at 2 wins and 2 losses, with a challenging battle looming this weekend. The Inaugural premiers of the VAFA Premier Womens competition and the team that knocked Fitzroy out of the finals, Marcellin, seem to have picked up where they left off at the end of 2107 doing a demolition job on Old Xavs last week. This is a real test for the home side, who have really started to show some strong form in the last two games.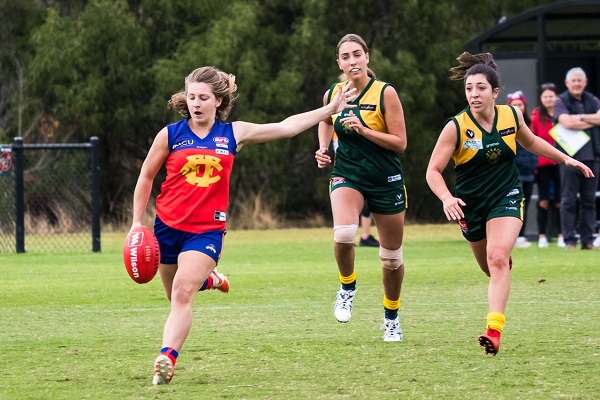 The star for Fitzroy-ACU in the Old Trinity game was Ruby Condon with three goals, including a crucial shot to stop the momentum of OTs, who had scored the first goal of the final quarter to move within striking distance. Ruby was best on ground.
Not far behind was, Erin EverywhereGogerly, who frustrated the opposition with her ground coverage and ability to read the play and cut off their attacking moves. Lucy Kerr was also very influential.
You can check out the VAFAs write up of the game here: https://www.vafa.com.au/latest-news/saints-down-mugars-while-roy-girls-go-2-from-2/
This weekend sees four of Fitzroys teams playing host to Marcellin Old Collegians. The Seniors and Reserves in the Mens and Womens competitions are up against the Eagles.
For the Fitzroy-ACU Reserves Women, Saturday cant come too soon after two weeks off with successive byes. Rachael Telfer will lead her team out onto Ramsden Street to start the days proceedings from 12pm, with the Seniors to follow at 2pm.